Blog
Changing Brand Establishment Strategies in the Fashion Industry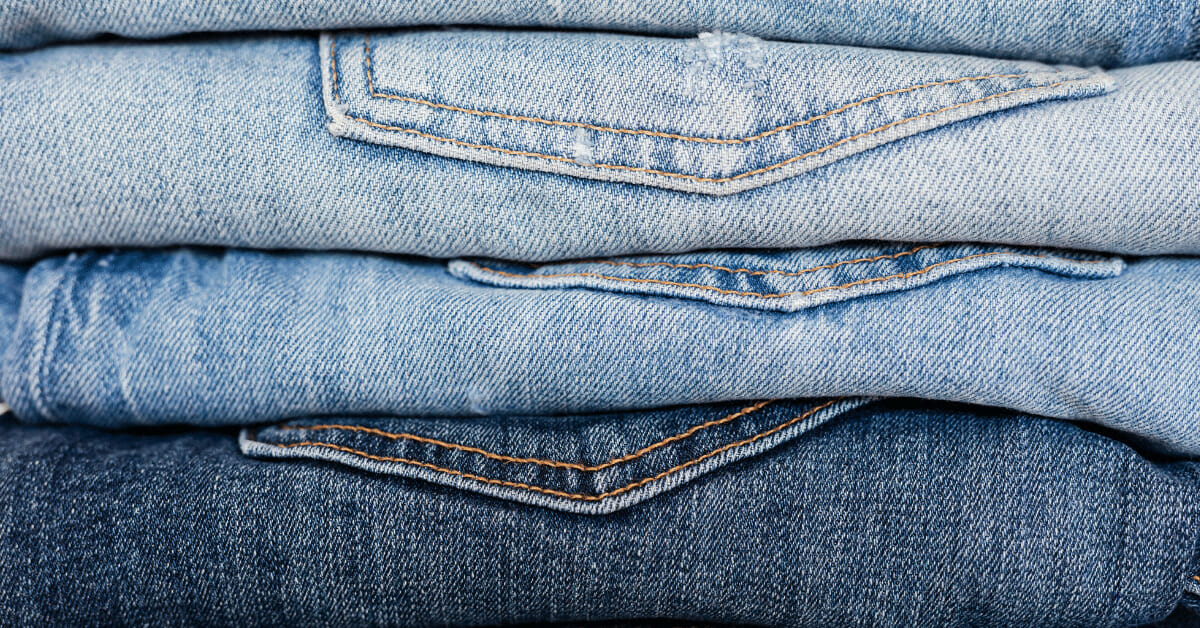 ---
Despite the significant effects of COVID-19 on the physical spaces in which fashion brands typically operate, many companies within the sector have remained robust. As they move to different models of production and distribution in order to account for a changing world, such companies are also starting to change their brand establishment and protection strategies. This article examines some of the data concerning recent fashion trademark clearance activity and suggests that both the strategic direction of brands and the rise of eCommerce are having an impact.
Is the Luxury Fashion Sector Slowing Down?
Throughout 2020, the fashion industry had to adapt as multiple lockdowns and commercial closures in countries such as Italy, France, and China (which are responsible for manufacturing most of the world's luxury goods) impacted the fashion sector's supply chain. It has been suggested that for fashion designers such as Hermès and Gucci this disrupted their production capacity and so reduced their output of clothing, footwear, and handbags.
However, the pandemic also appears to have coincided with another movement within fashion focusing on a reduction in so-called "fast fashion" practices in order to have greater environmental and societal benefits. It has been proposed by luminaries such as Giorgio Armani that a socially responsible form of fashion production can offer more sustainability. In an open letter to WWD in April 2020, Armani wrote:
This crisis is an opportunity to slow down and realign everything; to define a more meaningful landscape. The decline of the fashion system, as we know it, started when the luxury sector adopted the fast fashion operating mode with the continuous delivery cycle, hoping to sell more…I don't want to work like this anymore, it's immoral.
A similar sentiment was voiced by Anna Wintour, Chief Content Officer at Condé Nast, who recently suggested:
I think it's an opportunity for all of us to look at our industry and to look at our lives, and to rethink our values, and to really think about the waste, and the amount of money, and consumption, and excess that we have all indulged in and how we really need to rethink what this industry stands for.
Armani Trademark Activity
For IP observers, the question is, how might this change in focus play out in the trademark data? When looking at this owner's trademark data using our preliminary trademark screening tool Examatch™, at the time of writing, Armani holds over 6,700 live (pending and valid) trademarks in its portfolio. The top Classes for these marks are Class 3 (Cosmetics and Cleaning Preparations), with a 19.6% share, followed by Class 25 (Clothing), with a 12% share, and Class 18 (Leather Goods), with a 10.1% share.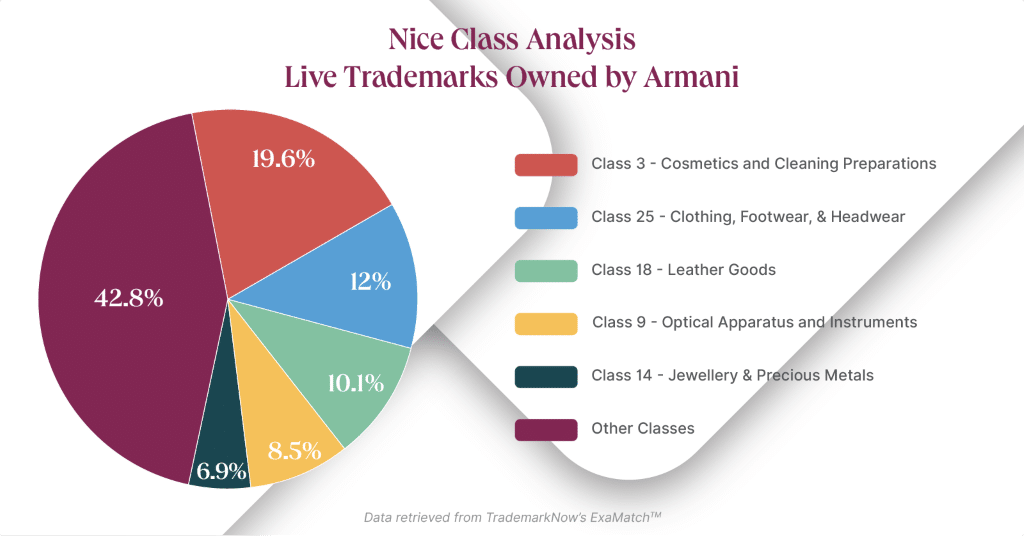 Top product descriptions used for these marks are found in Class 3 Perfume (19.6%) and Make-up (16.2%), followed by Class 25 Footwear (15.6%). The top three registries by volume of marks are the United Arab Emirates' TMD (4.9%), Singapore's IPOS (4.8%), and Italy's UIBM (3.7%). The top three owner countries are Italy (57.8%), Switzerland (34.6%), and Belgium (2.6%). The Italian company Giorgio Armani SPA owns 55.7% of these applications and its top brand is ARMANI™.
The Slowing Down of Fashion: Spotlight on 2019-2020
When running a trademark search and examining trademark data from 2019 to 2020, it appears that the brand has, in a way that reflects the sentiments of the designer, slowed down the rate of new brand name applications. Overall, it is observable that Armani has recorded a total decrease of –21.2% in the volume of trademark applications from 2019 to 2020. In 2018, this owner filed just over 270 trademark applications. The following year this volume dropped slightly by -3.6% to just over 260 applications, and, in 2020 we note that a little over 200 applications were recorded.
The Rise of eCommerce for Fashion Brands
While some companies appear to be embracing a new direction, which is reflected in their trademark clearance, there is another big market shift that is further impacting their business models — eCommerce.
According to Statista's Fashion eCommerce Report 2020, fashion is the largest B2C eCommerce market segment, and its global size was estimated at $525.1 billion in 2019. The market is expected to grow by 11.4% per year and reach a total market size of $1003.5 billion by the end of 2025.
eCommerce has seen an understandable surge in online clothing and apparel sales during the pandemic and having an online shop or presence has become critical to fashion designers, retailers, and creatives. Indeed, many smaller companies and individuals have realized that they have to move online in order to compete and survive.
However, while this may mean that there are additional brands entering the market, and so needing to register trademarks, the growth of eCommerce does not fundamentally change trademark strategies except in one key way. Due to the common practices of many IP professionals, most fashion brand owners with registered trademarks will likely already be covered within service Nice Class 35, which covers online services such as "Advertising and Business". If so, they will already be protected in the eCommerce arena. Because eCommerce does offer a readily available international scope though, the same trademark owners may now wish to extend the coverage of their existing marks to new jurisdictions in other regions. If brands are applying for new marks from the beginning of the process then jurisdictional coverage will continue to be a significant consideration in the future.
Regardless of whether you are an independent fashion designer or a multinational corporation, getting the right insights and tools for brand establishment and protection is crucial. If you have more questions about how Corsearch can support your brand please contact us today or learn more here https://corsearch.com/our-products/trademark-solutions/
DISCLAIMER:
*The above-mentioned brands are noted for factual reporting purposes only, the listing of the brands does not imply any relationship with Corsearch or its related entities.