Blog
Seasonal Branding — How To Get Your New Logo Holiday-Ready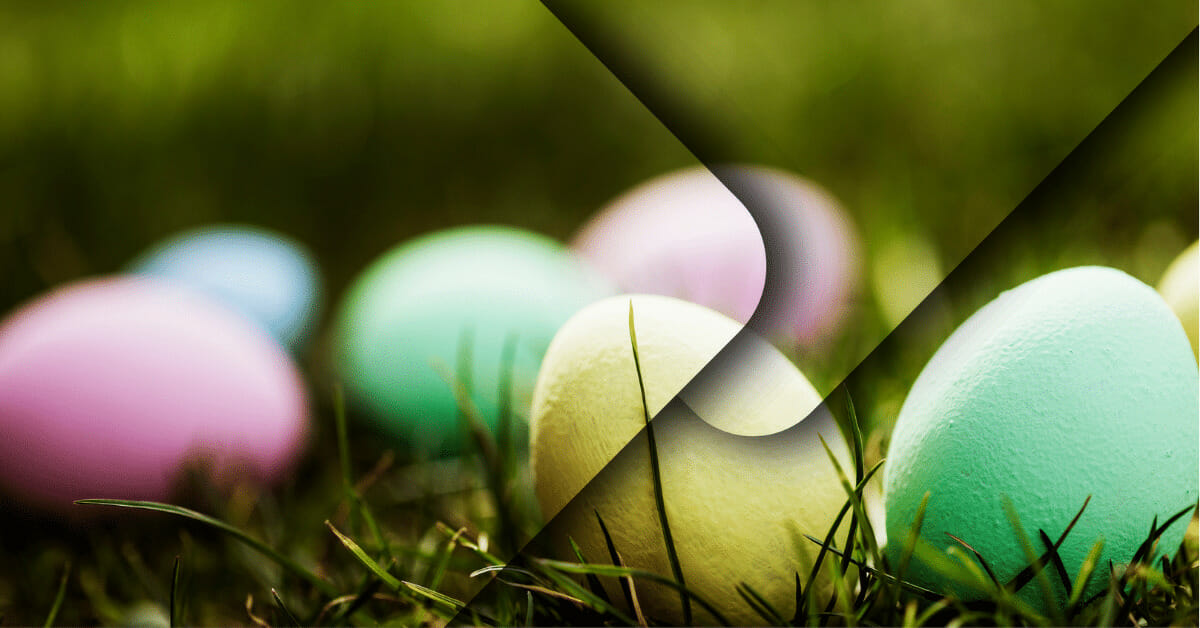 ---
Using the existing interest in an upcoming season or event, like Easter, can be an easy way to attract new clients to a brand. Consumers are already thinking about upcoming holidays and seasons, so seeing seasonal content and brand messaging can feed into that excitement.
However, seasonal branding is not a complete brand makeover — it's merely an adjustment of your branding to fit a season or holiday. It can be an important strategy for companies as it can help to increase profits, build loyalty and strengthen a company's identity. For brand owners and businesses seasonal demand is somewhat of a mixed blessing — it means more orders, and more revenue, but it also puts pressure on brands to innovate and move faster to keep up with consumer expectations.
In this article I highlight how brand owners can capitalize on seasonal branding opportunities and research, screen, and clear new logos easily and quickly — while managing brand risk and optimizing performance at every stage of the logo clearance process.
Holiday season retail waves
For brand owners, trademark registration helps to protect their IP rights. This is important all year round, but it becomes even more crucial during the holiday season. The Christmas holiday season has a big impact on ecommerce sales. Other holidays like Black Friday, Cyber Monday and Singles' Day are also significant revenue drivers.
Seasonal branding is especially prevalent in the food, beverages, fashion, and homeware industries. The spring holiday around Easter this year is bigger than ever. The National Retail Federation (NRF) surveyed consumers about how they plan to celebrate Easter in March 2021 and published a report on Easter spending that reveals just how big the spring holiday has become. Almost 80% of U.S. consumers surveyed said they plan to celebrate Easter — and celebrating includes spending. The NRF estimates that Easter shoppers will spend an average of $180 on holiday items. Overall, spending is expected to reach more than $21 billion over the Easter holiday. Easter is an international holiday and, as such, is celebrated worldwide. it's important for brand owners to recognize what consumers want and be able to prepare for increased demand in seasonal products in order to provide their customers with the best experience possible.
It's a competitive space. Using our preliminary trademark screening and business intelligence tool ExaMatch™ we found just over 29 thousand trademark applications that contain the product description "Easter" filed internationally. Nice Class 2 (Paints) holds a majority share with 5% of all applications. The top ten product descriptions for these kinds of marks are all found in this Class — led by 'Dyes, colorants, pigments and inks' which is found in 49.8% of all applications. The top Class is followed by Class 35 (Advertising and Business) with 4.3% and Class 30 (Staple Foods) holding a 3.6% ratio share.
A recent EU Easter bunny case demonstrates the importance of a robust screen and clearance design search. Historically this was a laborious, time-consuming and expensive task — which hampered the ability of brand owners to react to the market and innovate to design seasonal branding — such as new logos, packaging and designs quickly and easily. Our clients asked us to come up with a self-service logo checker — a faster, better, cheaper, intelligent, self-service image recognition tool to optimize these kinds of time-sensitive projects. That is why TrademarkNow, a Corsearch company, innovated and developed LogoCheck™— our new image-to-image trademark search solution — which complements and enhances Corsearch's full design clearance search offering.
Logo research and screening to full clearance — Corsearch has that
LogoCheck's AI enables quick and easy self-service preliminary logo research and screening — all on one platform. So brand owners have the flexibility to brandstorm together with creative and marketing teams online. A quick quality check enables you to move your logo along the trademark assembly line and knockout weaker logo candidates — thus reducing your original list of logos and risk level, before moving your 'good' logo candidates onto a full, robust, Device Search and obtaining a comprehensive clearance and strategy report, with risk analysis, compiled by an expert (human) analyst at Corsearch.
What is LogoCheck™?
State-of-the-art intelligent image recognition tool.
Artificial intelligence (AI) based on a deep learning neural network rigorously trained using millions of logo image samples.
Easy, intuitive, user interface which allows users to easily search within and filter results, without re-running the entire search.
Searches similar images across 54* trademark offices and gets your results in seconds. (*to date)
Unique combined search flexibility enables you to merge your image-upload search with multiple kinds of in-parallel searches.
Potential conflicts appear in an easy-to-scan gallery. Select to see details on a preview panel and download your logo search selections into Word, Excel or PDF reports.
Easter hunt for a new logo
Let's go on an Easter hunt together for a new seasonal logo mark using LogoCheck™!
As our scenario, let's pretend our business plans to launch a new Easter-egg-hunt family game kit in the United States and France. As our fictitious logo candidate, we'll grab this cute chick design from publicdomainvectors.org[1] and simply copy-paste it from the website into LogoCheck's interface.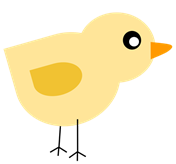 From here, LogoCheck's AI takes over! It immediately searches across all 54 available countries for similar designs, returns them in decreasing order of similarity, and presents the results.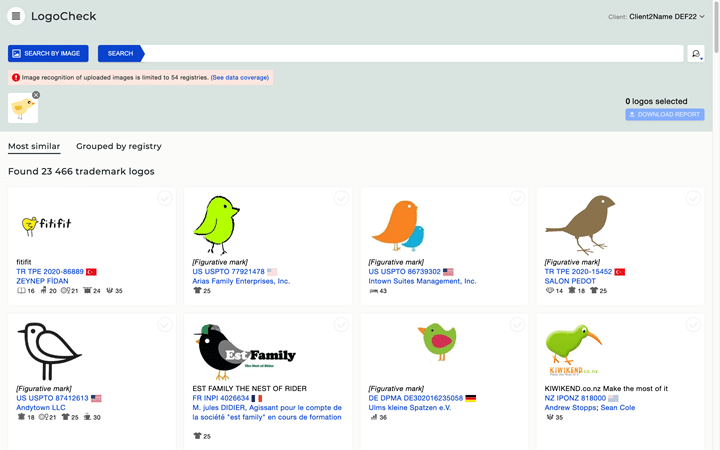 Now that the hunt is on, we can zero in on exactly what types of logos matter to us: those valid registered designs in the US and France that look similar to our candidate.
We can select a number of filters from LogoCheck's Finder Bar to help our hunt, including Trademark Status, Vienna codes and US design codes, specific country registries, Nice (product) Classes, and even key in individual product types, such as "Games":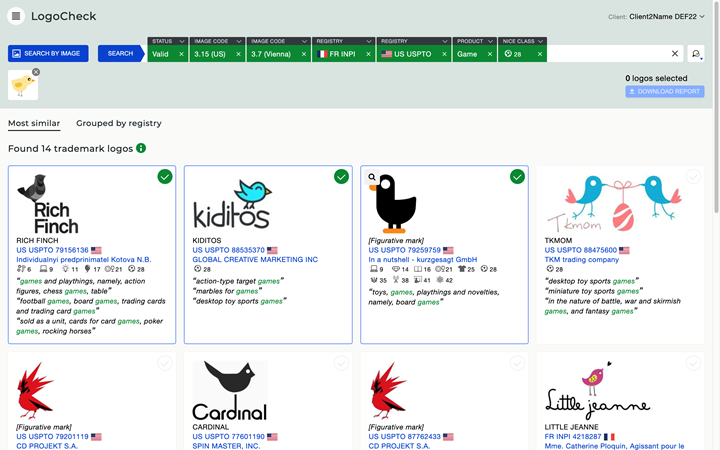 Once the potentially-competing designs are revealed, we can click to review the trademark registry details of individual close matches: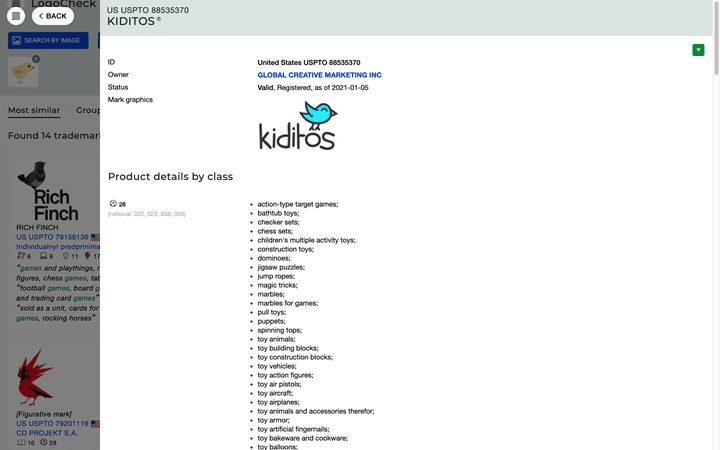 …and even check out each trademark-owner's portfolio.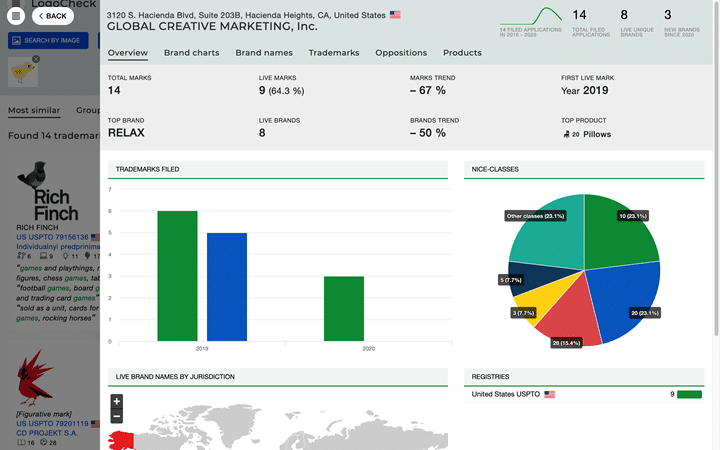 Finally, we can select those logos that do appear to be risks into a downloadable report for our colleagues to discuss.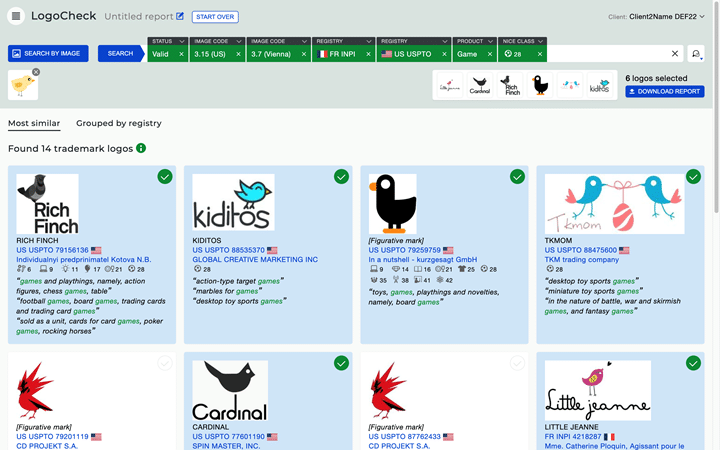 Final thoughts
Brand owners get ahead of the curve by planning and preparing their seasonal trademark strategies well in advance. They know that each and every season or holiday fuels retail demand. Whether it's summer BBQs, jewelry for St. Valentine's Day, or Easter greeting cards — now business owners and IP professionals can get any new, seasonal logos holiday-ready quickly and easily — and keep their customers and clients happy.
Learn more about LogoCheck™
LogoCheck™ is not just for Christmas! Find out more about how our new image-to-image search solution can transform your preliminary logo research and screening work — at any time of the year.
***
*This is an informational opinion article of Charles Hill, VP of Product Marketing at Corsearch. The views and opinions expressed in this article are those of the author and do not necessarily represent official policy or positions of Corsearch or its clients.
[1] Source: https://publicdomainvectors.org/en/free-clipart/Easter-chick-vector-image/8426.html