Blog
How to Create, Build, and Maintain Brand Strength
Brand Protection
Content Protection
Trademark Clearance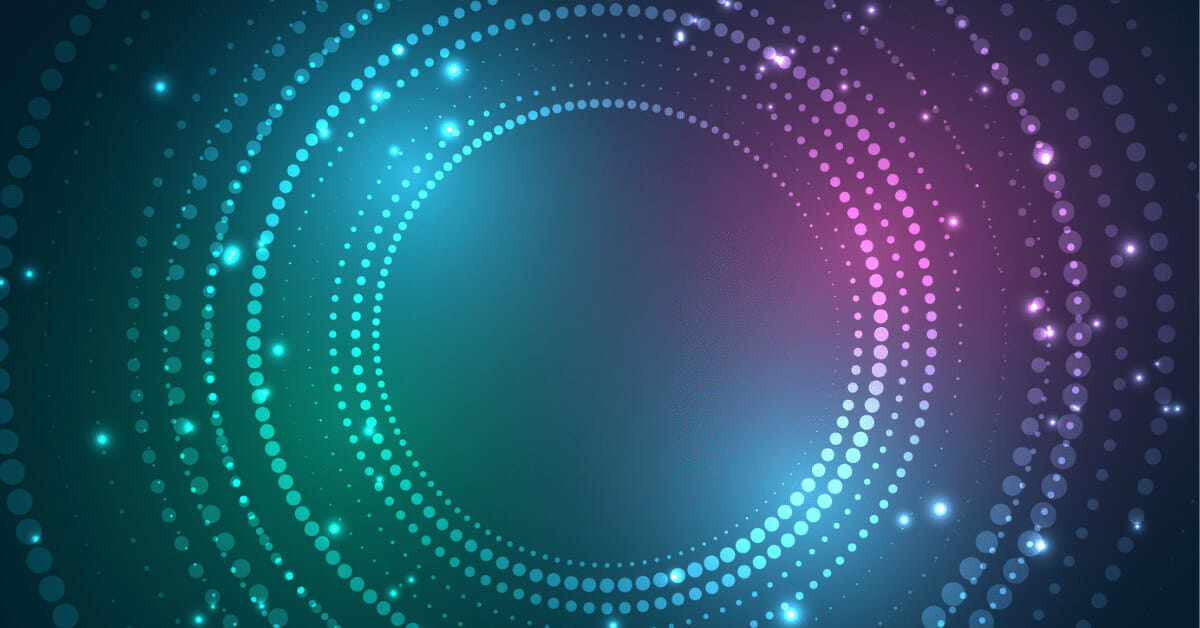 ---
Want to know how to boost the valuation of a business? Invest in brand strength. Put simply, brand strength (sometimes known also as brand equity) is the value that is carried by a brand. It denotes a consumer's perception of a brand, or the value invested in it by a business over time.
In this article, I examine the benefits of brand strength for businesses, look at some of the challenges that brand equity can present to brand owners and stakeholders, and give a short overview of three solutions that help trademark professionals to create, build, and maintain a strong brand.
The Benefits of Brand Strength
Positive brand strength can be extremely profitable for a business. It can attract a premium price for goods or services (in contrast with lower value generic pricing). Brand strength has other benefits for businesses too. It can be transferred to other products or services in its lines and can boost revenue by association. And having a strong brand can also help to raise the overall valuation of a business, leading to a higher market share, and an increase in revenue and profits. 
What Makes a Brand Strong?
Once a business has decided that it would benefit from having a strong brand, how does it choose a good mark? Ideally, the trademark should align with both the business and marketability of its products and/or services. It should look for a strong trademark that will be both an asset and add value to the business.  
Often times the Marketing Team may have a proposed mark that is not legally viable. Marketing teams usually aim to find words that are easy to say, spell, and remember which can sometimes lead to weaker trademark candidates being put forward to Legal.
Here are three factors that should kept in mind when seeking to create and build a legally strong trademark: 
Uniqueness 
Investment  
Protectability 
1. Uniqueness
Choosing a trademark that clearly connects with the company will add brand strength. It should connect the goods and services that are delivered to the consumer by company X with only company X, i.e., it should be unique. This process can be made more efficient by utilizing ExaMatch™ — our preliminary trademark search solution. Legal, marketing, and branding professionals can collaborate online, on one platform, and search for any exact and near exact match to their preferred brand name candidates. Allowing them to quickly eliminate "non-starters" at the very beginning of a new brand naming project and save time. 
2. Investment 
Strong branding is built up over time with a considerable amount of thought, time, and money invested to prevent inconsistent and weaker branding. A budget should be set aside for both brand name planning and trademark filing strategies. A trademark attorney can assist with both planning and strategic decisions on the registrability of a proposed mark, as well as its market viability.  
Trademarks are considered to be a valuable intangible business asset. As such, a legal evaluation and opinion on the brand strength of a new trademark candidate can pay dividends! 
3. Protectability
A trademark must be protectable. A strong mark, as dictated by trademark law, will help a business to carve out a niche in the market.   
A trademark attorney can run a preliminary trademark search and a more comprehensive trademark clearance search on your candidates. They will also give you their expert, legal opinion on the protectability of your trademark candidates in the territories of your choice and will assist you at the trademark application stage. 
There are five main categories of trademarks used in trademark law to determine protectability. The more distinctive they are, the stronger and more enforceable they are under trademark law. Here I rank them in order of strength from the strongest (fanciful) to the weakest (generic): 
Fanciful — highly unique or distinctive mark, a made-up word.  
Coined or Arbitrary —a word or image that already exists but has no connection with the business that uses it. 
Suggestive — brings to mind the good or service, but there is an additional link needed. 
Descriptive — describes the characteristics of the good or service. 
Generic — not registrable under trademark law as the entire market needs to be able to use those words to describe their good or service. 
Brand Strength at a Glance
Our AI Clearance tool, NameCheck™, helps stakeholders at an early stage of brand development, enabling them to understand the candidate word or words strength, by breaking the trademark down into its component parts and compares those parts against any matching marks. Reports can also be customized, downloaded, and shared externally. 
Namecheck's Brand Strength Tab is helpful in giving a sense of the relative uniqueness of a mark: for example, the strength of different words within a multi-word candidate.
Data retrieved by NameCheck™ Brand Strength Tab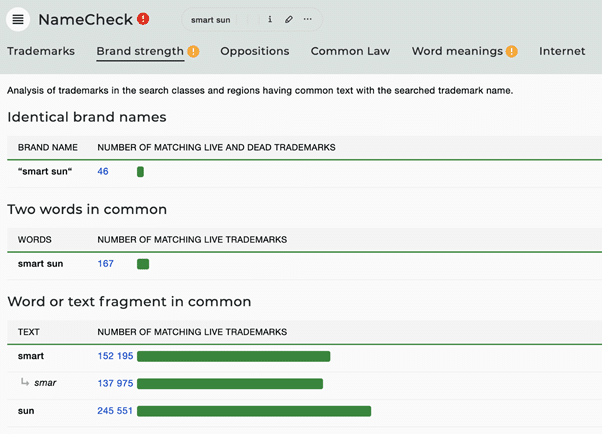 Word Meanings
Our AI also gives you a unique opportunity to check the candidate word meanings with our Word Meaning Tab. This allows you to explore its meaning in one or more languages and eliminate problematic meaning — a factor that could hinder its success in the international marketplace.   
This is not only important to evaluate the strength of your future brand, but also it gives an overall picture of the words that may prevent registration in a particular territory.  
An example of these features can be seen when searching for the mark VERI in class 32 (light beverages) and class 33 (alcoholic beverages, except beer) which reveals the following top word results:   
Data retrieved by NameCheck™ Word Meaning Tab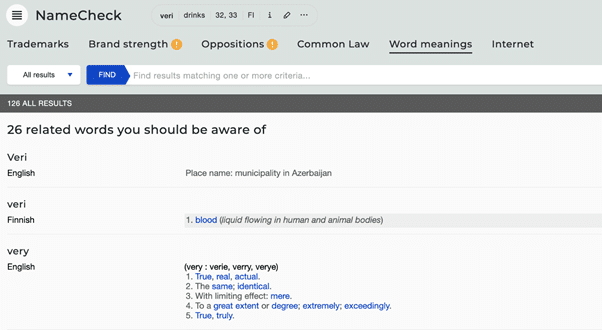 It would not have been a good idea to launch a beverage under this brand name in Finland!
Maintaining a Strong Brand
Once your new brand name has been screened, cleared, and protected through trademark registration, it's critical to implement a brand protection strategy in order to protect its strength and value. Monitoring the mark to enforce and protect it against potential confusingly similar third-party applications is crucial. 
Our ExpertWatch team watches new global trademark filings and publications of marks that may be confusingly similar to yours. The team then delivers rapid, relevant watch notifications so you have time to make decisions concerning possible oppositions or related procedures. 
Corsearch Brand Strength Solutions
From screening to clearance, and beyond, when it comes to brand strength Corsearch has you covered! 
Please contact us today to find out more about how our unique and innovative solutions and services can help you to create, build, and maintain your brand strength.  
***
DISCLAIMERS:
*This is an informational opinion article of the author. The views and opinions expressed in this article are those of the author and do not necessarily represent official policy or positions of Corsearch or its clients.
*The above trademarks and logos are not affiliated with or owned by Corsearch, and are used for illustrative purposes only as public record from the respective Trademark Offices.
*The above-mentioned brands are noted for factual reporting purposes only, the listing of the brands does not imply any relationship with Corsearch or its related entities.