Blog
Jack Daniel's Sues Lonehand Whiskey Maker for Trademark and Trade Dress Infringement
---
The world of alcohol beverage is an extremely competitive industry and the value and importance of trademarks and trade dress are always being tested in the marketplace as manufacturers spend hundreds of millions of dollars on branding and product design and development. Advertising and marketing of alcohol beverage products is therefore focused on consumer recognition of brand names and product design and packaging, otherwise known as "trade dress."
Trade dress protection does not require federal registration with the USPTO. Trade dress consists of the characteristics of the visual appearance of a product or its packaging (product configuration, design and/or shape) capable of signifying the source of the product to consumers. Trademark owners who allege infringement without a federal registration may face the additional legal hurdle of proving that consumers have come to recognize a product's appearance or packaging as a commercial source indicator — i.e., as a brand — the most famous example is the shape of the Coca-Cola bottle.
Trade dress infringement is a form of trademark infringement that grows out of unfair competition law. It permits parties who can prove that the appearance of a product or its packaging (or both) is worthy of legal protection to prohibit competitors from selling products that are confusingly similar in appearance as to be likely to cause confusion among consumers who encounter the allegedly infringing product in the marketplace.
A recent interesting trademark and trade dress case is the case that the Brown-Forman Corporation has brought against whiskey-maker Dynasty Spirits and Gulf Coast Distillers for trademark and trade dress infringement of its Jack Daniel's brand. Brown-Forman claims the Lonehand Whiskey brand is causing "irreparable harm" to the Jack Daniel's trademark and trade dress, consisting of the well-known trademark, and trade dress, which it claims has acquired significant secondary meaning, goodwill and association by consumers.
Jack Daniel's owns the trade dress for the three-dimensional configuration of a square bottle container for "distilled spirits" in the category of distilled spirits, including whisky. The Jack Daniel's label includes the phrases "Old No. 7," "Jack Daniel's'," "Tennessee," and "sour mash whiskey." Jack Daniel's describes its "iconic" trade dress as consisting of: a square bottle with angled shoulders, a ribbed neck, black cap, and a black wrap closure. Brown-Forman claims that Lonehand Whiskey's bottle has similar features, including its square shape, the arched lettering used for the Lonehand brand, and the use of the words "Whiskey" and "Tennessee Sour Mash." The Jack's Daniel's three-dimensional square bottle has been registered as a trademark since February 28, 2012. Take a look at the images included in the Jack Daniel's trademark registration: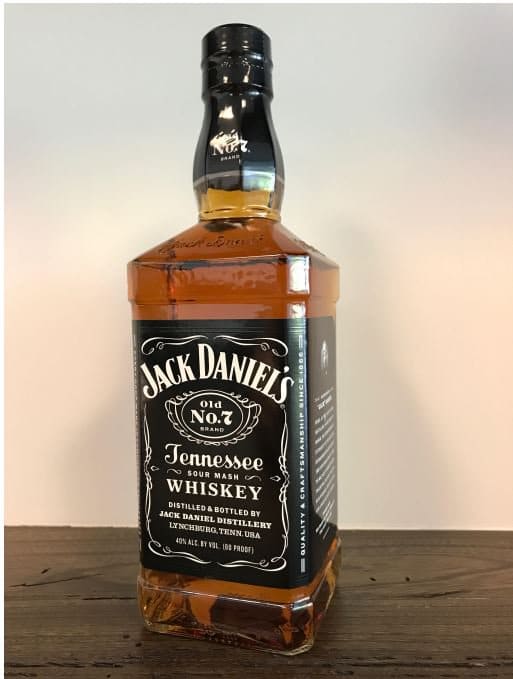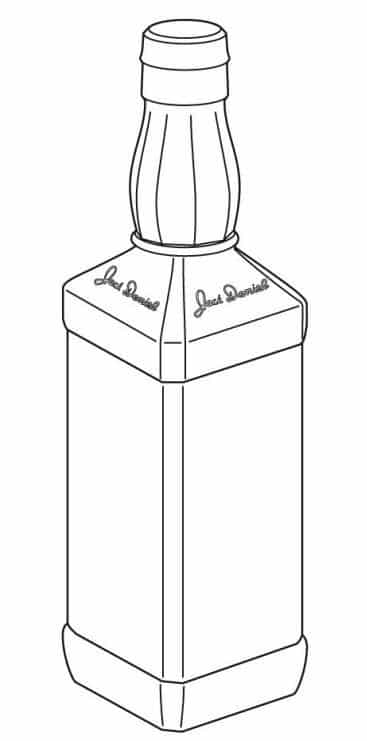 In addition to its claim that Dynasty Spirits and Gulf Coast Distillers purposefully copied the Jack Daniel's bottle, according to The Spirits Business, Brown-Forman claims that the company asked retailers to place Lonehand next to Jack Daniel's in stores and to use elements of the Tennessee brand's trade dress in promotions. The lawsuit goes on to claim that Lonehand Whiskey is an inferior quality product and that Dynasty Spirits' overall business strategy was "designed to mislead and deceive customers."
Look at the Lonehand product: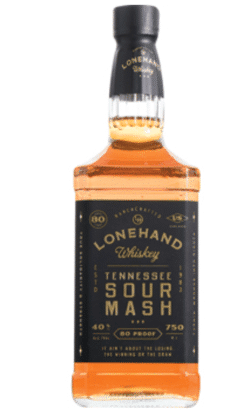 Ultimately, the law states that:
"[T]rade dress may be protected if it is nonfunctional and has acquired secondary meaning and if its imitation creates a likelihood of consumer confusion." Fuddruckers, Inc. v. Doc's B.R. Others, Inc., 826 F.2d 837, 842. (9th Cir.1987), cited with approval in Two Pesos, Inc. v. Taco Cabana, Inc., 505 U.S. 763, 769-70, 773-74, 112 S.Ct. 2753, 120 L.Ed.2d 615 (1992).
"Plaintiff bears the burden of proving three elements of its trade dress infringement claim: (1) non-functionality; (2) secondary meaning; and (3) likelihood of confusion." Glob. Mfg. Grp.,LLC v. Gadget Universe.Com, 417 F. Supp. 2d 1161, 1165 (S.D. Cal. 2006) (citing Disc Golf Ass'n, Inc. v. Champion Discs, Inc.,158 F.3d 1002, 1005 (9th Cir. 1998).
An interesting case that could help Brown-Forman as favorable recent precedent is the Dan Aykroyd case in which Aykroyd's company, Globefill, Inc., producer of CRYSTAL HEAD tequila, well-known for a tequila-brand bottle shaped as a skull, discovered that a newcomer tequila company — Elements Spirits Inc., and its founder Kim Brandi, had begun packaging liquor in skull-shaped bottles. Aykroyd's company initiated a lawsuit for trade dress infringement and won through a unanimous verdict. In that case, a jury found that Elements' KAH-branded tequila, which comes in a "Day of the Dead-inspired skull-shaped bottle," was likely to confuse ordinary consumers into thinking it was made by, or affiliated with, CRYSTAL HEAD, and had been purposefully designed that way. An interesting note to the trial was that, Globefill called as a witness a local tattoo artist and sculptor, who was then able to directly refute Brandi's testimony that the creation of the skull-shaped was original.
The Brown-Forman company is rightfully aggressive in the protection of its trademark and trade dress and it will be interesting to see if it is as successful in this case as it has been in recent others involving its visably identifiable bottle design. Although it could be argued that certain of the elements of its trade dress are nondistinctive and unprotectable, the question is whether the overall commercial impression of nonfunctional elements have adequate secondary meaning and significance as source indictors to consumers that the Lonehand product is likely to cause confusion in the marketplace with its "iconic" brand. The question of bad reviews — does not hurt the case either from a harm perspective.