Blog
How Brands Can Successfully Navigate the Threat Landscape on Social Media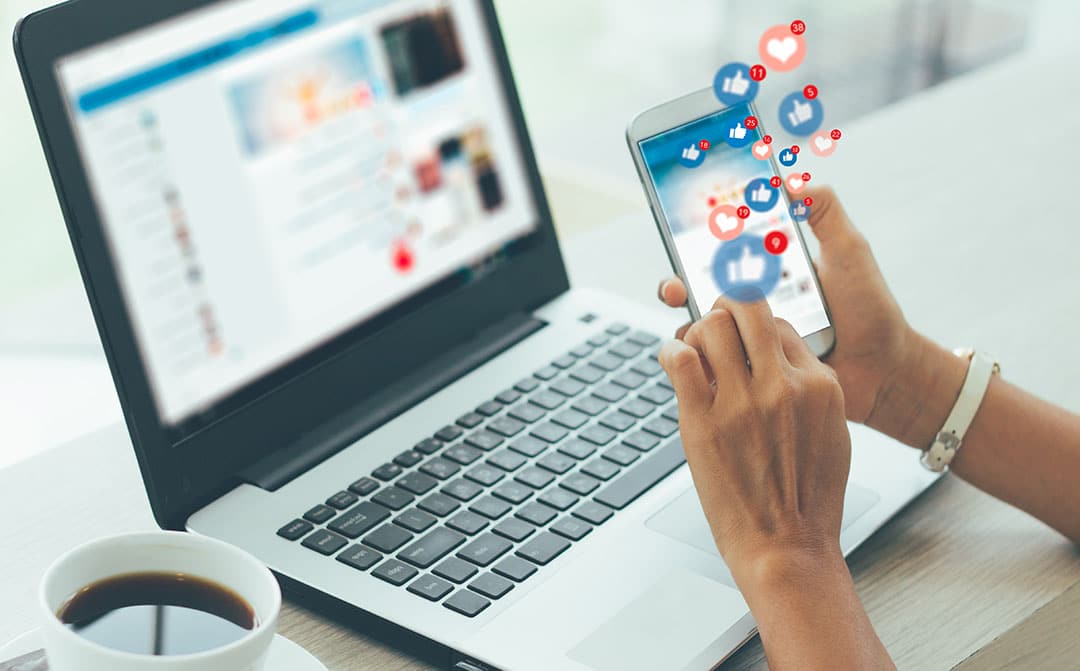 ---
As the social media landscape continues to evolve rapidly – from ever-higher adoption, emerging platforms, and social commerce – so too has the threat from bad actors.
Impersonation and phishing scams, if left unchecked, can lead to irreparable damage to brand reputation.
In this blog, you'll learn how forward-thinking businesses can protect consumer trust in their brands on social media. We also explore best practices for monitoring social media platforms to tackle new behaviors and retain control.
The evolving threat landscape on social media
From counterfeiting and phishing to impersonation and false association, brands face a barrage of threats from bad actors on social media.
The rise of abuse on social media stems from two factors: the ease of use and ability to set up accounts, and the enormous number of users that can be reached. It is estimated approximately 53% of the global population are social media users[1], with the average consumer interacting with at least 6 different platforms[2].
Impersonation and phishing scams
Brands are targeted by both impersonators that use brand names/trademarks in usernames and other bad actors that make no apparent connection to the brand in their account name. Impersonation accounts are particularly dangerous as they are more likely to breed consumer confusion and lend an air of authenticity to the posts, third-party links, or offers found on these pages.
Counterfeiters use impersonation pages to direct consumers to e-commerce websites, diverting money away from brands and leaving consumers with inferior quality products.
Impersonation pages are also often deployed as part of phishing scams. Phishing scams are responsible for harvesting personal information and financial fraud and are therefore seriously damaging to brand reputation. Corsearch's brand protection analysts note that Facebook is a popular target for phishing scams because bad actors can harness the platform's sophisticated advertising tools to target certain demographics and fans of select brands.
Facebook scams pose an increased threat because searches can bring back different posts each time; infringing pages will not always appear in the first set of results. These pages are known to rapidly accrue followers. During a monitoring exercise on behalf of a leading confectionary brand, our analysts uncovered a phishing page that attracted approximately 20,000 followers in just 2 days.
Phishing pages — such as the one highlighted above — are normally connected to malware-ridden domains and require the user to share the page on their feed, attracting further victims. These digital footprints left by infringers are one of the ways in which we discover phishing pages.
How infringers exploit consumers on social media platforms
Clandestine counterfeiters and convincing impersonators prowl social media platforms – and are operating at an increasingly large scale.
Bad actors receive payment offsite
Infringers use several methods to collect payment from unwitting consumers. Common methods include links to third-party websites, contacting the buyer via third-party apps so that the transaction is out of view, and, in some rare instances, requesting face-to-face meetups.
Platforms such as WeChat and Instagram are commonly used by bad actors to directly message consumers. In a typical transaction, an infringer will direct message a user on Instagram, then direct them off platform to provide payment. This will usually take the form of an e-commerce website or a P2P transaction through a service such as PayPal or Alipay.
Bad actors operate as part of networks
Bad actors utilize a combination of digital channels including social media, marketplaces, and e-commerce websites to sell their illegal products and target consumers with phishing scams.
These 'infringer networks' operate scams across multiple social channels and will often re-create old pages with very similar or identical layouts and photos. If any social media pages are enforced, bad actors will simply switch promotion efforts to a new page. For the website side of the network, bad actors employ multiple URLs and top-level domains, ensuring that they can continue to operate even if individual entities are enforced.
The key to taking down infringer networks is to trace links between all these separate accounts and locate the perpetrators at the heart of the operation. Businesses should then enforce at a network level to take out the entire operation rather than engaging in reactive takedowns.
How brands can respond to social media threats
Brands must assess the threat level and retain control of their social channels.
Social media monitoring
Comprehensive monitoring and swift enforcement are both critical to successfully reducing the number of consumers falling prey to counterfeits and phishing scams. This strategy needs to be agile – scams regularly modified to catch both enforcement agents and consumers off guard.
It is critical to monitor phishing-related keywords that infringers regularly use or create variants of. For example, infringers may use the brand name along with the words "hamper, hampers, basket, competition, anniversary, US, fan", etc. To find new threats, these searches will need to be refined over time as infringers often change their tactics.
Infringers will attempt to recreate pages once taken down. Brands should continue to monitor the targeted platform and look out for any similar URLs that have been encountered before.
Finally, it is important to remember that social media platforms will not necessarily recognize the hallmark signs of scams and impersonation accounts. Therefore, regular dialogue with platforms is essential to improve their ability to automatically detect this activity. Insights can include common spelling mistakes, typical account behaviors, and the offsite URLs and domains to look out for.
Social media audit
A complete social media audit is a powerful tool in a brand's arsenal. This allows your business to build a picture of your brand's digital hygiene, unearthing dormant official (and unofficial) social media accounts and pages.
Simultaneously, a social media audit will unveil impersonation pages and phishing scams that might be targeting the areas where you have no social media presence. For example, you might not have social media accounts targeting the German market – an impersonation page may fill that gap with consumers having no reference point to compare the impersonators to a legitimate account.
To realize the full benefits of a social audit, this process is best undertaken cross-functionally across your business:
Your marketing team can find out where your brand's social media presence is strong, and where it is weak
Your legal team can use the data on impersonation pages for enforcement action
Your security team can identify where the phishing scams are appearing, based on the brand targeted and the type of scam (social media or domain-based)
Why image technology is key to unveiling social media infringers
Corsearch's brand protection technology enables businesses to discover and action threats on social media. Alongside keyword matching, advanced image technology is key to discovering infringement.
Logo detection
Brand logos are often visible within the images used in phishing scams and other infringing posts. Our logo detection software is a powerful search filter which sifts through the vast quantities of data captured by our system and highlights all listings containing a brand's logo.
Based on a dynamic keyword strategy tailored to specific customer needs, we gather potential infringements. Logo detection then instantly prioritizes those containing trademarks, resulting in more relevant results and a faster enforcement rate.
Infringers use distorted logos to evade monitoring while still being recognizable to consumers. Logo detection can still be trained in these variations and to stay ahead of the risk.
Image similarity
Infringers often lift copyright-protected images from company websites and authorized marketplace listings. Our image similarity tool scans through captured listings and recognizes these images. The system then marks these for review based on their similarities with possible copies.
Image similarity goes further though because counterfeiters and infringers often use the same images as one another. Once we have identified that an image is of a counterfeit, we perform a reverse image search for all similar photos across the system, leading to enforcement on an even wider range of listings in just two clicks.
Learn more about Corsearch's image technology >
Talk to one of our brand protection experts
Talk to us today to discover how we can support you in protecting your consumers and brand reputation on social media.
---
References
[1] 80+ Essential Social Media Marketing Statistics for 2022 (Hubspot, 2022): https://blog.hubspot.com/blog/tabid/6307/bid/23865/13-mind-bending-social-media-marketing-statistics.aspx
[2] Social Network Usage & Growth Statistics: How Many People Use Social Media in 2022? (Backlinko, 2021): https://backlinko.com/social-media-users