Blog
The role of Search Engines in directing consumers to counterfeit automotive parts
---
Search engines are indexing websites containing dangerous counterfeit automotive parts, putting consumers at risk.
The automotive sector faces huge volumes of counterfeit vehicle parts; the European Union Intellectual Property Office (EUIPO) estimates that more than €2 billion is lost each year due to counterfeit tires and batteries being sold and offered for sale inside the EU.
Particularly alarming is the recurrence of counterfeit airbags within the top search results. New Corsearch research reveals that one website selling counterfeit Honda airbags received 61.24% of its traffic from organic search and placed on the first page of results.
The risks posed by fake automotive parts
Fake automotive parts do not adhere to stringent safety regulations and put consumers at great risk. Counterfeit airbags, brake pads, seatbelts and tires all increase the risk of serious injury or death if the vehicle outfitted with them is involved in an accident.
Counterfeit airbags have been linked to fatal car accidents. In 2017, a female driver crashed a Kia vehicle into a tree in Highland Park, Dallas, and tragically lost their life after their airbag failed to deploy. It was only two years later that investigators discovered that the airbag module was counterfeit – it was poorly constructed, did not contain a firing mechanism and the main inflatable airbag that should have been present was, instead, replaced by rags[2].
Fake brake pads have also been found to be made of all manner of unsuitable materials, including dried grass dyed to look like rubber.

A test conducted by Mercedes-Benz that compared real and fake brake pads showed that cars driving at 100km/h on a dry surface traveled a further 25 metres to come to a complete halt[3], potentially changing a minor accident into a major collision where human life is put at risk. BMW conducted another test in 2017 where fake brake pads started to smoke and disintegrate almost immediately, indicating that they would completely fail to bring a vehicle to a halt.
Identifying dangerous websites within search results
Fakes may be easy to identify in person, but it can be harder to do so when purchasing online. Consumers are lulled into a false sense of security when seeing automotive parts displayed on the first page of Google or other large search engines, reducing the level of scrutiny these products receive.
Corsearch performed keyword searches for airbags, with and without the names of popular car brand names. The screenshot shown below shows the first 10 results of a keyword search on Yandex, the Russian search engine, using the term "купить airbag дешево" (English translation: "buy airbag cheap").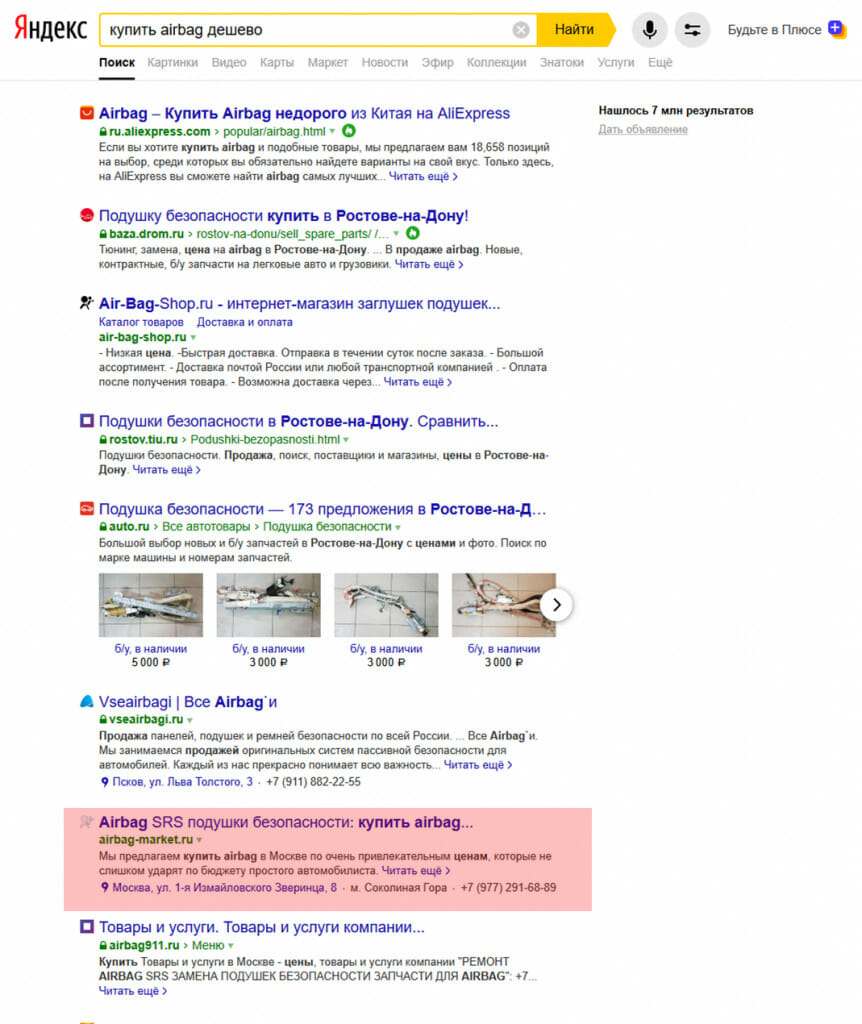 The website in the seventh position (highlighted in red) has been identified as a harmful website. This website generates 61.24% of its traffic from organic search.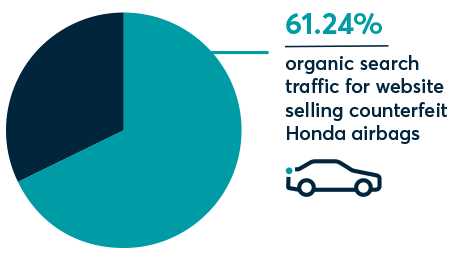 A product page (showing a Honda branded airbag) of the airbag-master.ru website is shown in the screenshot below: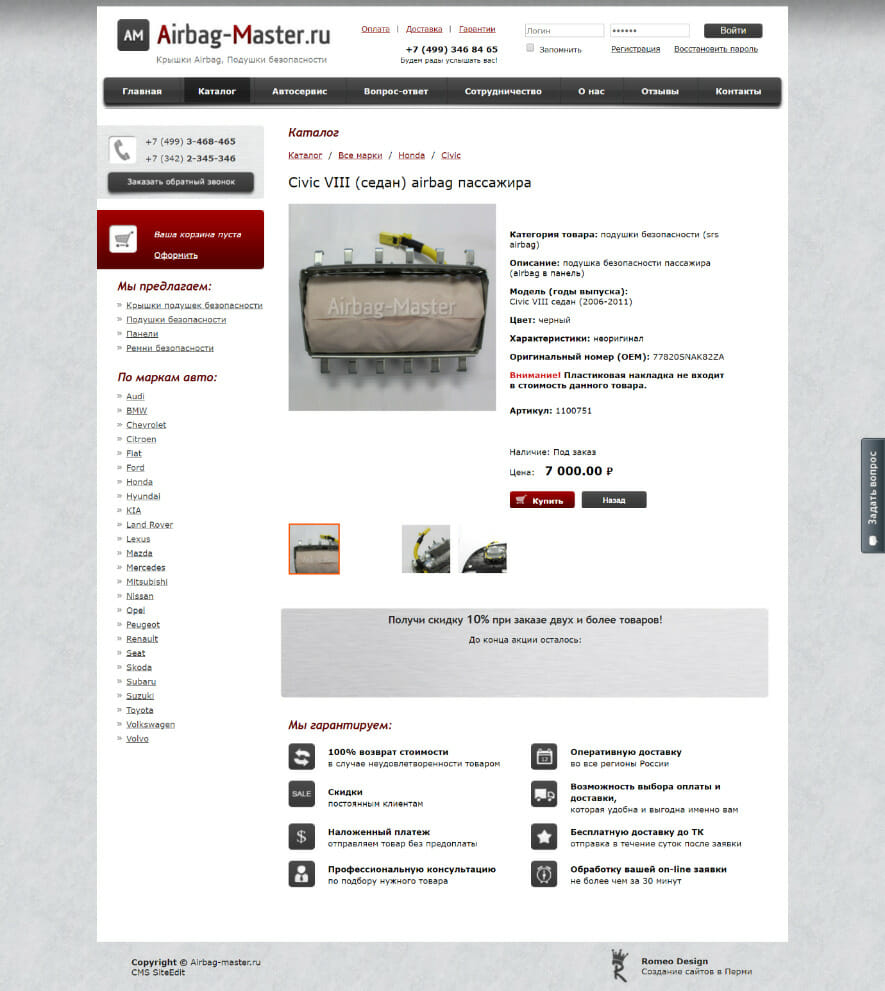 In the example above, the website is advertising a Honda passenger airbag for 7,000 Russian Rubles, equivalent to approximately £89. The retail price of official Honda airbags is closer to £800. The site also offers a discount of 10% for those customers who buy 2 or more. Furthermore, the product is described in Russian as "Характеристики: неоригинал" which translates to indicate it is not an original manufactured product, despite their claims that they are working directly with the manufacturers. Add to that, the site claims to sell high-quality products, but on closer inspection, the airbag in the photo is, in fact, ripped. From all these indicators, Corsearch is able to identify this search result as a harmful website.
A recent investigation undertaken by Corsearch on behalf of a leading car manufacturer revealed that a website offering over 64,871 'branded' parts, the majority priced below 50% RRP, was easily accessible through search engines. The low price and the fact that the items were stated to be shipped without the original packaging indicates this site was likely selling fakes and was therefore harmful to consumers.
Counterfeits infiltrating the supply chain
In recent Corsearch research that asked US and UK consumers to indicate the fake products that pose the biggest threat to society, alarmingly, only 6% of US and UK consumers said fake car parts. This is despite the danger to life from fakes such as tires and brake pads. This figure likely reflects the fact that consumers are rarely part of the purchasing process for car parts; mechanics and authorized garages determine the replacement parts needed and will place the order.
It is likely that consumers will take their vehicle to a mechanic to source and fit an airbag. In the ever-competitive motor trade, garages are known to source cheap parts from various suppliers, including online sites such as the example highlighted above, 'Airbag-Master.ru'.
Whilst the mechanic sourcing the airbag will have greater knowledge than the average user, there is still a risk that they may buy sub-standard or counterfeit parts, especially from wholesale sites offering parts at a discount. If counterfeits are bought in large quantities from these sites, there are widespread implications for drivers.
What must search engines do to rectify the issue?
It is brand owners and their representatives who are best placed to verify the authenticity of their branded car parts. However, there are currently no scalable solutions available to them to notify search engines and have infringing pages removed from results.
By providing a scalable solution for the removal of illicit results, search engines would have a lasting impact on this problem, especially where sites rely on organic traffic to survive. Corsearch would welcome the ability for rights holders and their representatives to be able to take action against indexed pages or websites which directly lead to trademark infringing content.
By taking the lead, search engines can together set the standard for protecting consumers online.
White paper: Search Engines can and should implement a scaled anti-counterfeiting solution and remove locations from their search resultsTS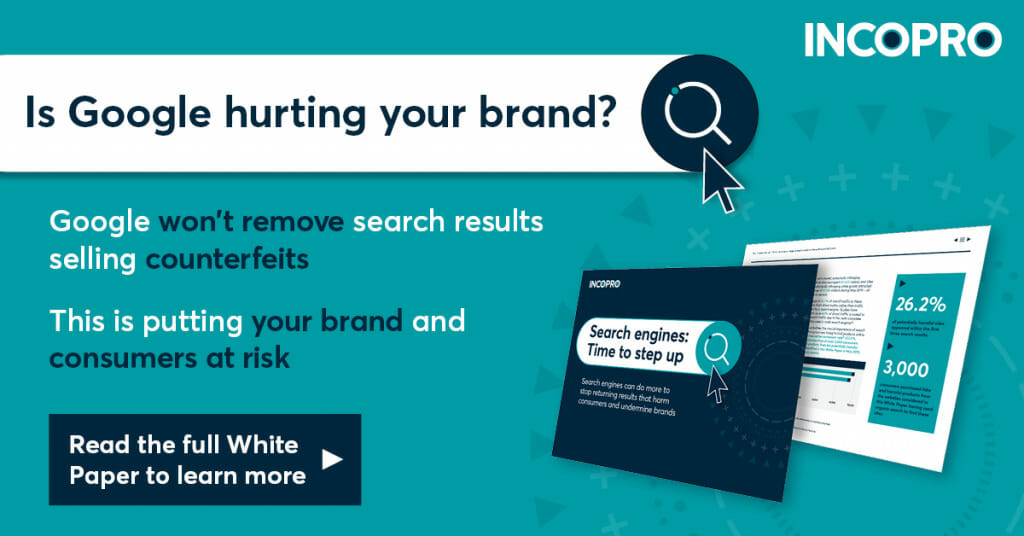 Next week, our search engine series continues as we reveal the key findings of our research into the use of search to find counterfeit pharmaceutical products. Read our previous piece to gain a high-level insight into the paper's core themes and sectors researched.
This blog was originally published on the Incopro website. Incopro was acquired by Corsearch in 2021, with the two organizations combining their technology and expertise to better serve the market.
References:
[2] https://dfw.cbslocal.com/2019/02/25/fake-airbag-filled-black-tape-shop-rag-deadly-crash/
[3] https://www.drive.com.au/car-article/motor-news/counterfeit-brake-pads-fail-testing-117262.html