Blog
Brand Valuation in M&A Scenarios: Opportunities and Challenges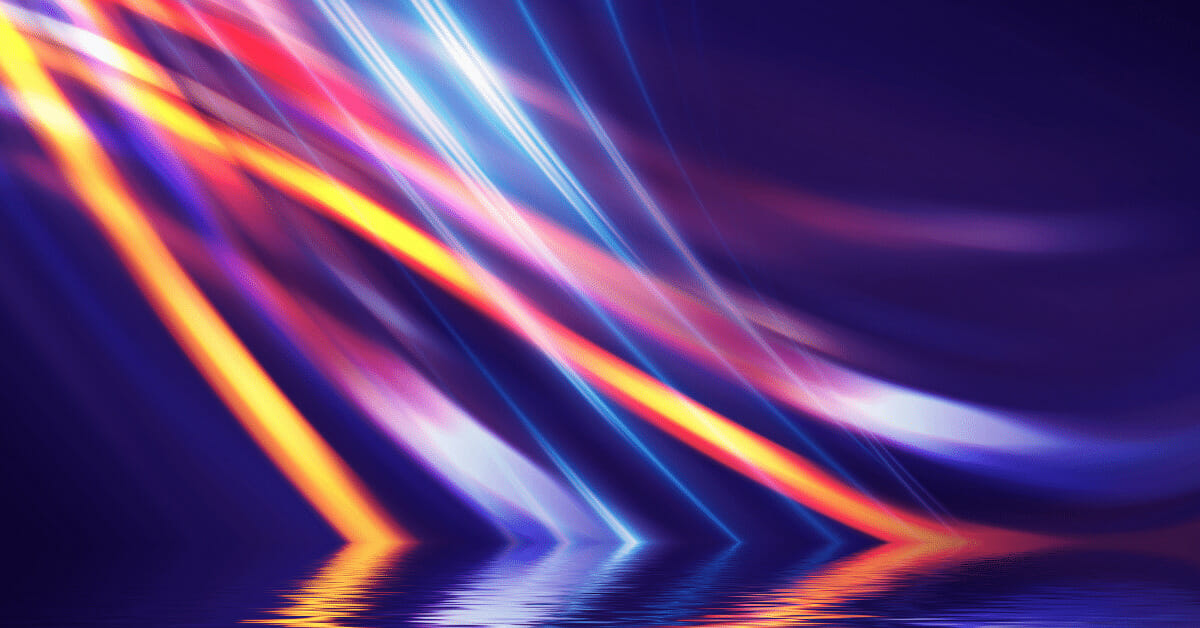 ---
The shift towards a global, digital economy has resulted in the demise of some of the traditional assumptions about measuring the value of a business. Globalization and cross-over business models, coupled with a fast-emerging digital economy geared towards service and technology markets, has accelerated this change even faster. These changes have led to in the emergence of many important companies whose value no longer resides exclusively in physical assets.
Given the intangible nature of IP, it's often hard to define and more difficult to value than physical assets. Knowing exactly how much value a unique trademark adds to goods or services is hard to quantify. As such, reliable solutions for IP valuation services are essential to help service providers and businesses engaged in intellectual property and M&A transactions to utilize the best IP valuation methods and get accurate results.
This article provides a short overview of the challenges of IP valuation today and the opportunities for brand valuation experts in M&A scenarios. I also showcase an innovative solution that helps to optimize trademark valuation processes for all stakeholders, while fostering compliance with global regulations in this fast-growing service industry.
Challenges of IP Valuation
The value of an IP asset represents the potential future economic benefits to the authorized user or the IP owner. Unless the value of the intellectual property is assessed, the company's balance sheet will only reflect the investment that has been made in the creation of the IP, and as a result, the company and its products may be undervalued. If trademark value is at stake, it can be a significant issue.
The World Trademark Review recently outlined how brand value is a key driver of M&A:
"While brand value is created by a variety of factors – from a business's reputation to its messaging, design and marketing and communication strategy – it is ultimately the legal system, which supports the ways in which a brand is built, captured and protected, that holds the key to unlocking this value, especially when it comes to M&A activity."
Deciding upon the best valuation method to use when ascertaining how to determine the fair market value of a trademark can present many challenges for all brand valuation stakeholders. Availability of data and the overall business structure can both play a role in determining which method is the most reliable for brand valuation service providers.
Opportunities for Brand Valuation Experts in M&A Scenarios
Many brand valuation service providers in the M&A sector now utilize technology to assist them in making comprehensive assessments of a company's IP portfolio — and to report their findings and opinion to their company or clients.
Corsearch offers a self-service AI-powered trademark portfolio analysis tool called Portfolio Analyzer™. It's a unique cross-functional trademark management, business intelligence, and IP valuation tool that enables trademark professionals — as well as non-IP professionals like valuation analysts and M&A professionals — to unlock essential trademark data for valuation or for strategic planning purposes and quickly create, verify, and value a company trademark portfolio.
Access to the platform can be shared amongst cross-functional teams, enabling seamless collaboration between all valuation stakeholders. Reports can be customized and exported to share with clients and teams.
How Does Portfolio Analyzer™ Work?
Our unique, trademark portfolio analysis tool, Portfolio Analyzer™ enables M&A professionals to create a trademark portfolio quickly and easily and leverage trademark data to gauge the strength and value of a trademark portfolio. Portfolio Analyzer™ helps to identify:
Industry benchmark portfolio-strength metrics against competitors.
Growth trends and innovation.
Geographical brand coverage.
Market potential.
With data from over 180 trademark registries consolidated together, viewing and visualizing any company's trademark registration portfolio could not be easier.
Just enter your company's name(s) and/or countries and select those whose subsidiaries and brands you'd like to include in your analysis — any names in non-Latin alphabets are automatically translated for you.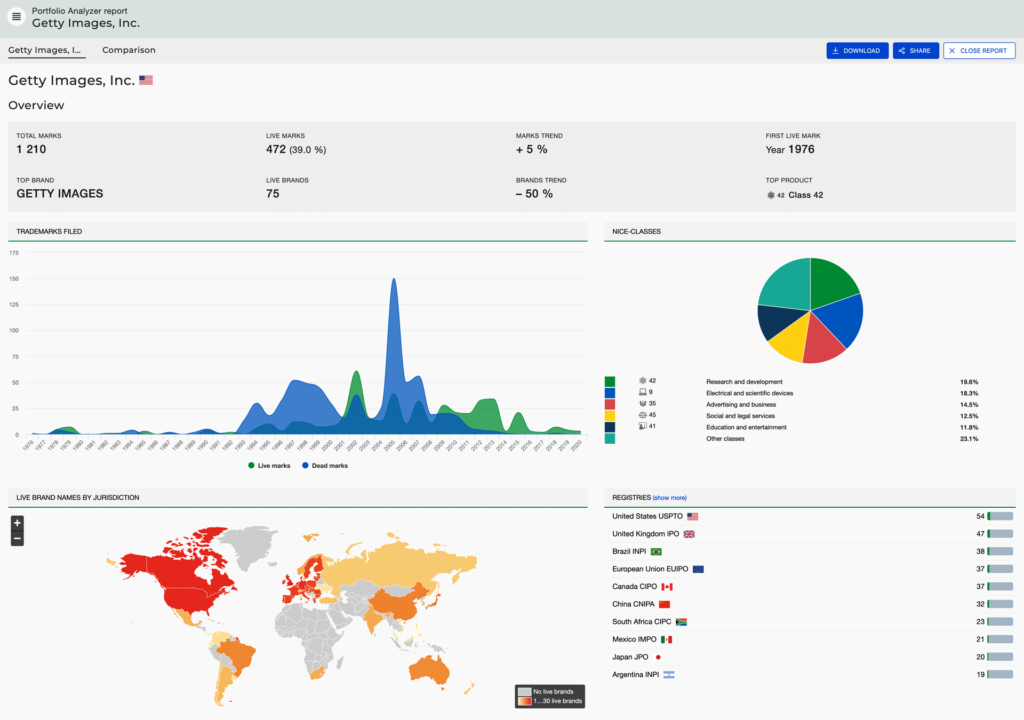 Data retrieved by Portfolio Analyzer™

Portfolio Analyzer™ enables you to gauge the strength of a trademark portfolio, identify growth trends, coverage gaps, and even vulnerable brands. It's also possible to benchmark portfolio-strength metrics against competitors.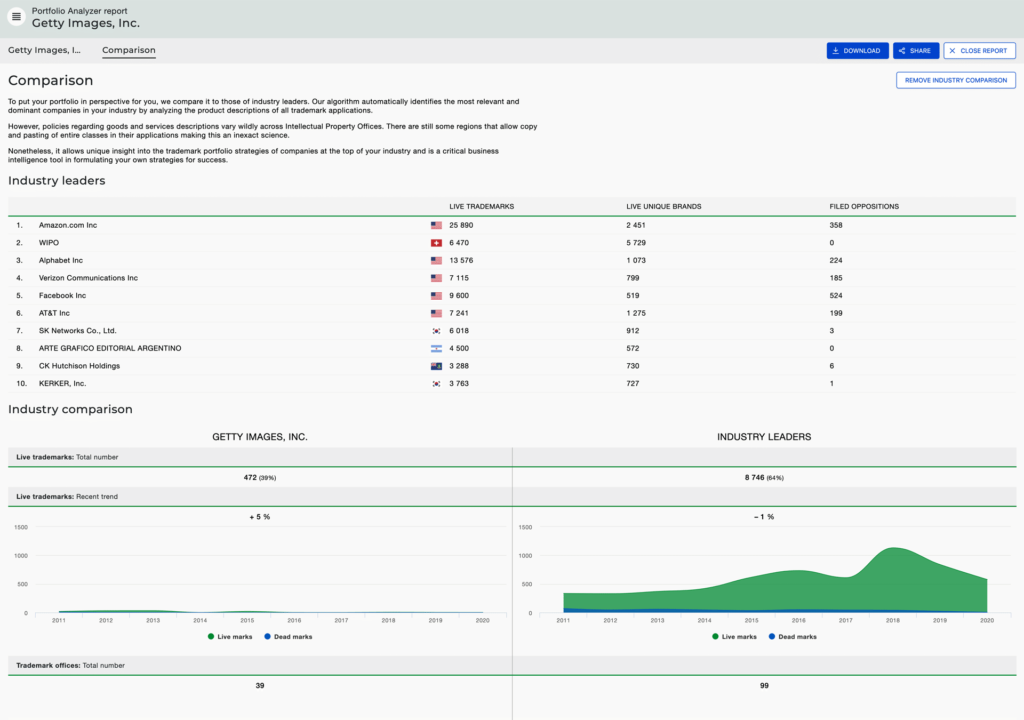 Key Features and Benefits for M&A Professionals
The technology behind Portfolio Analyzer™ is powered by more than 20 years of investment and proprietary third-level research, in-house development, and client feedback.
Our solution provides you instant access to data from over 180 trademark offices around the world. Its intuitive dashboards enable quick and easy trademark portfolio creation and deliver an instant overview of individual brand strength within the portfolio — empowering you to work more effectively and to elevate your services while improving the accessibility of trademark intelligence for all M&A stakeholders.
For M&A professionals, the tool is not only useful when conducting a trademark audit of a target company. It can also help you to identify potential targets and successfully build a brand strategy after a merger or acquisition.
Now you can find, analyze, and present information in a way that better informs your trademark valuations, identify potential M&A targets, and build a brand strategy after a merger or acquisition — all on one easy-to-use online offering!
Final Thoughts
Today, there is a significant opportunity for trademark intelligence to be used more widely to inform an intangible asset valuation and strategic decision-making around mergers and acquisitions.
Getting access to critical data and business intelligence to perform accurate valuations can be a significant challenge for trademark valuation experts and trademark professionals. Visit our website to learn more about how Portfolio Analyzer™ can transform your trademark valuation work today!
***
DISCLAIMERS:
*This is an informational opinion article of the author. The views and opinions expressed in this article are those of the author and do not necessarily represent official policy or positions of Corsearch or its clients.
*The above trademarks and logos are not affiliated with or owned by Corsearch, and are used for illustrative purposes only as public record from the respective Trademark Offices.
*The above-mentioned brands are noted for factual reporting purposes only, the listing of the brands does not imply any relationship with Corsearch or its related entities.