Blog
Brand Clearance Opportunities and Challenges in the Pharma Industry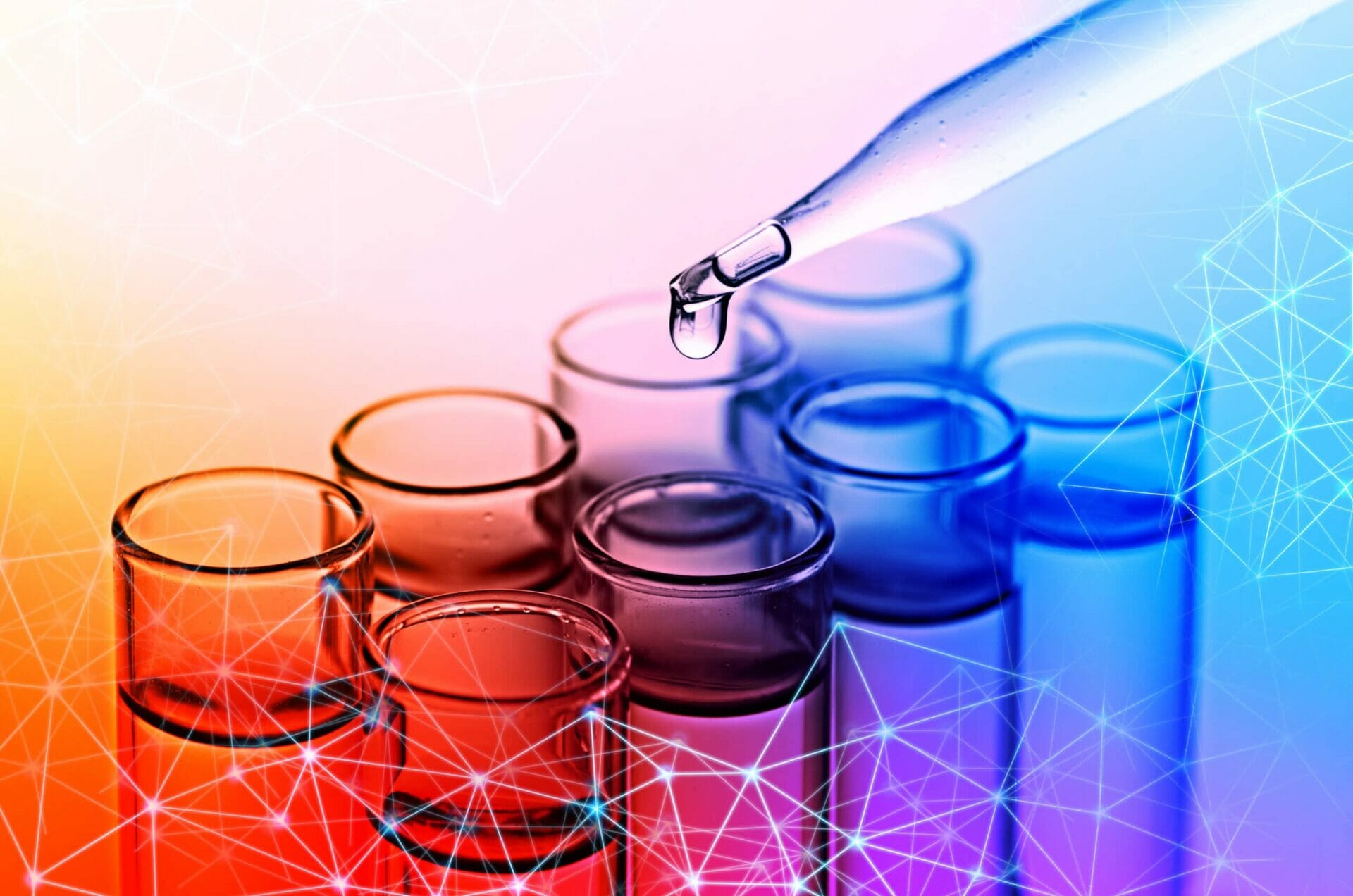 ---
Trademark screening and clearance processes for new Pharma and healthcare brands, drug names, and trademarks have always been complicated and time-consuming, but they have become more so in recent times. While the Pharma industry has always faced unique legal and regulatory considerations, the rapid growth of trademark application volumes recently has added to screening and clearance workloads.
This article uses USPTO and EUIPO Pharma trademark application trends to provide a short overview of the opportunities and challenges in pharmaceutical trademark management for IP professionals.
I also showcase a new, innovative solution — CORSEARCH Pharma-Check — that delivers fast, comprehensive, and reliable trademark knockout screening with POCA-ranked results, helps all new brand naming stakeholders such as marketing, branding, IP professionals, and pharmaceutical companies, to optimize their workflows, and enables pharma brand owners to spend time on the trademark candidates that matter.
A Surge in Pharmaceutical Trademark Applications
According to trademark application data found in Nice Classes 1 (Chemicals), 3 (Cosmetics and Cleaning Preparations), 5 (Pharmaceuticals and Medical supplies), 10 (Medical Devices), and 44 (Medical, Cosmetic and Agricultural Services) from the last ten years, both the USPTO and the EUIPO have seen significant rises in overall volumes of filings — 147% and 83% respectively.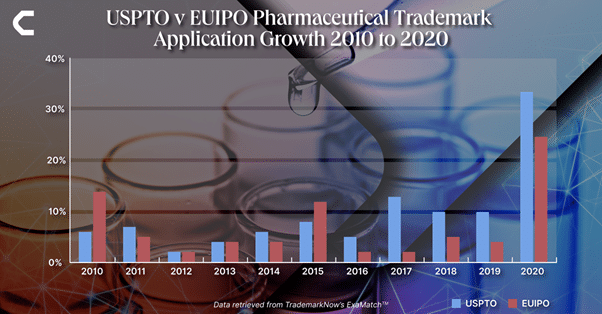 The biggest gain in both registries can be seen in 2020 with growth of 34% in the USPTO and 25% in the EUIPO throughout 2020, when compared to the previous year.
2020-2018 Pharma Trademark Application Insights
USPTO
Our 2020 data shows that the top Nice Classes were Class 3 (29.3%), Class 5 (27.4%), and Class 10 (19.8%). This was a shift away from Nice Service Class 44, which featured in the top three Classes in both 2019 and 2018, and towards Class 10, which entered the top three for the first time during these three years.
The top three owner countries were the U.S. (66.4%), followed by China (15.6%), and Canada (2.1%). This list remained unchanged over the period.
EUIPO
At the EUIPO, the top Nice Classes in 2020 were Class 5 (30%), Class 3 (26.6%), and Class 10 (19.8%). There was a similar pattern as in the U.S. because Class 44 was also displaced from the top three, having featured in both 2019 and 2018.
Top owner countries in 2020 were Germany (16.5%), China (11.2%), and the U.S. (9.1%) — China having displaced Italy, which featured in the top three in both 2019 and 2018.
These recent shifts in the Pharma market, and the significant surge in application volume in 2020, may present a challenge for new trademark applicants when it comes to navigating heavily populated trademark territory.
The Search for a New Pharma Brand Name
Any new brand project always begins with a long list of potential names, which can be scaled down through intelligent screening and full trademark clearance search technologies and expert solutions. While all potential trademarks face similar challenges in terms of development and registration, there are several unique issues facing those developing new brands in the pharmaceutical sector, especially with regard to prescription drug names (Nice Class 5 – Pharmaceuticals and Medical supplies), which must be screened and cleared for both orthographic and phonetic similarity.
In the Pharma industry, lists of potential trademark candidates may number into the thousands and it is often down to both the marketing and legal teams to find a time and cost-efficient method of reducing this to a single contender.
The final brand name should be screened, registrable, and available for use across as many regions as possible. This is desirable for many reasons, but amongst them are regulatory requirements. In Europe, for example, the European Medicines Evaluation Agency (EMEA) process for the approval of a new product relies heavily on the ability of the product to carry the same name throughout the European Union.
When combined with the volume of potential candidates, the wide range of regions across which this screening must be done increases the workload of trademark professionals in the pharmaceutical industry.
However, recent advances in legal technology have resulted in the ability to clear a potential brand name across a large number of regions simultaneously. This can dramatically reduce the workload, expense, and time burden across the entire project.
When those results are POCA-ranked and analyzed in order of threat level, taking into account the additional regulatory requirements and extra sources of data, the end result may be highly beneficial.
Introducing CORSEARCH Pharma-Check
CORSEARCH Pharma-Check is our innovative, knockout screening tool for the Pharma industry. It is a bespoke solution that eliminates early-stage trademark clearance blockages by enabling you to bulk screen up to 150 trademark candidates, returns POCA-ranked results, and optimizes preliminary screening of new brand names.
Designed exclusively for the Pharma trademark industry — in collaboration with global pharmaceutical practitioners — CORSEARCH Pharma-Check can help you to bring your marks to market quickly and reliably.
Our solution is customizable to both your data coverage and risk-level needs. Rather than searching manually through individual databases, CORSEARCH Pharma-Check allows you to access multiple key Pharma databases at the same time, including:
40 trademark registry sources.
Pharma-in-use sources.
Regulatory sources.
INN and USAN stems.
Domain name data. 
CORSEARCH Pharma-Check is easy-to-use. To run your preliminary knockout search you follow a simple three-step approach.

Kickstart Your New Pharma Brand Naming Project
The key to effective and efficient preliminary trademark search is speed. Limiting the time that you spend on Pharma names that have little chance of success is critical and can save you time and money.
Kickstart your new Pharma naming project with CORSEARCH Pharma-Check and spend your time on the Pharma names that matter. Not on the ones that don't.