Case study
How Bob Ross Inc. Removes Unauthorized NFTs and Fake Merchandise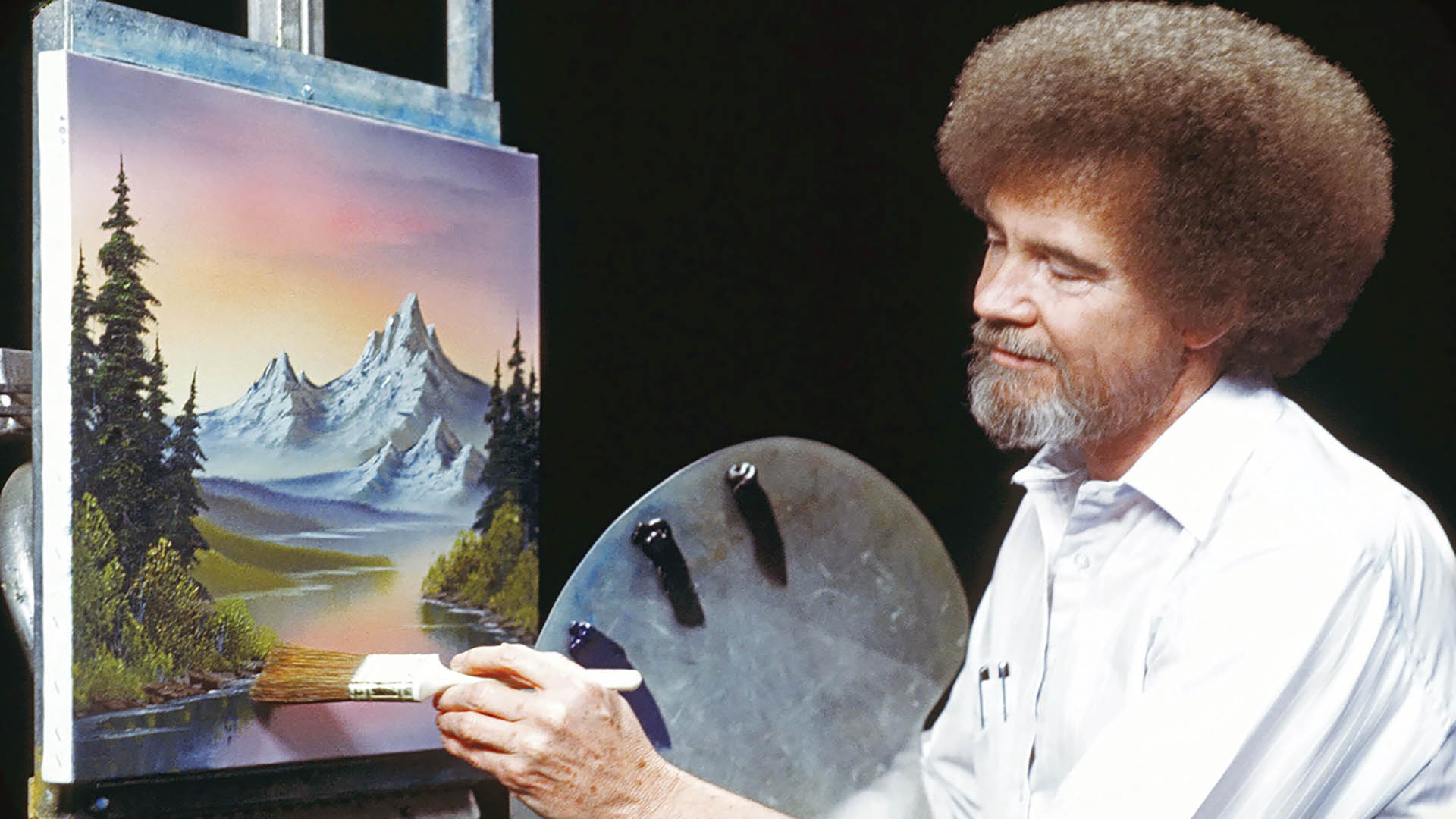 ---
Why Brand Protection Is Critical for Bob Ross Inc.
Joan Kowalski, President of Bob Ross Inc., explains that the evolution of the internet paired with Bob's lasting popularity means that online infringement is inevitable and needs to be constantly monitored:
"When we started with Bob Ross, there was no internet. Bob wasn't even around for email. The darker side of becoming so pervasive was the ability for bad actors to be able to take your property and make it their own with a snap of a finger. Bad actors can meet consumer demand right away. Protecting intellectual property is a completely different animal now."
"Brand protection is incredibly important for a lot of reasons. I would say that the key reason is the fact that bad actors have a desire to take something so perfect and innocent such as Bob Ross and shoot it full of holes. So, Bob Ross: the property, images, and name is a target for a lot of pornographic, violent, and otherwise distorted content – we even see it used in a political context. All this activity needs to be monitored and removed. Otherwise, you have no idea where your property is and how it's being used."
"Bob Ross revolutionized people's way of thinking and feeling about painting. We've earned the right to be a little annoyed when people are hijacking Bob's property. I know Infringers may think 'Oh, it's just Bob Ross. He was such a sweet, kind man. I'm sure he wouldn't mind if I take his face and put it on a T-shirt, right?' Bob was actually pretty ferocious about protecting the image and the personality that he had developed and shared with people."
"Arctic Winter Day", by Bob Ross. Photo courtesy of Bob Ross Inc.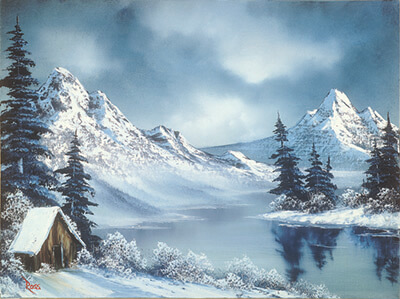 Fake Merchandise
Joan shares that licensed merchandise plays a big role in letting people express their love for Bob's personality and artwork. The company therefore seeks out fake merchandise on print-on-demand platforms such as RedBubble.
"The top problem is the image and the name being used on merchandise that's not authorized by Bob Ross Inc. And that's not to say that we aren't willing to share the beautiful man. But we do it in a way where we have licensees who are vetted by our agents. We know that our licensed products are built with character; our licensees live and breathe the property. It's not just a slapping a logo on a product. There's more to it than just another t-shirt or a coffee mug. They work directly with me. We build events around Bob Ross. We launch giveaways."
Unauthorized NFTs
Only recently surging in popularity, the NFT market currently operates like the wild west. Bad actors are taking advantage while brands try to work out how they can monetize NFTs legitimately and how they can protect their intellectual property. Joan explains that unauthorized NFTs are a priority area for her and acted as a catalyst for seeking a brand protection vendor:
"Unauthorized NFTs are a big problem for Bob Ross Inc. Right now is when the fruit is really ripe for infringers to sneak in and start minting and selling unauthorized NFTs. This was the final straw for us. We used to try and maintain brand protection ourselves. However, from the heightened awareness of Bob Ross the number of infringements and the 'shooting holes in the brand' has only increased. With NFTs, we knew we needed help as this area alone was looking like a full-time job to me that I just won't be able to do so."
Examples of unauthorized NFTs listed for sale on OpenSea. Listings found by ZERO, Corsearch's brand protection platform.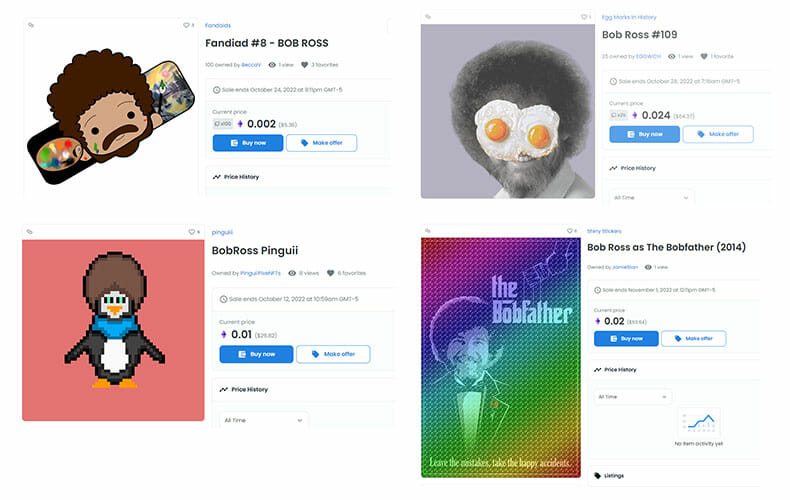 Choosing Corsearch
Before Working with Corsearch
Joan explains that prior to working with Corsearch she tried to locate and enforce online infringements manually, distracting her from other tasks and responsibilities. Without a technology solution, it was becoming increasingly difficult to keep up with the scale and volume of infringement.
"We were losing revenue. Infringers were earning money that belonged to us. No question about it. You could go on social media or a marketplace and see thousands of listings for Bob Ross merchandise, and none of it was created by any of our licensees. And the more we tried to take infringements down, 10 more would pop up" Joan states.
"We would attempt to find and enforce infringements by ourselves. It was a pretty humble effort on our part. Occasionally we would find a situation that was egregious enough that we could involve our attorney, and he was the one that pointed this animal's just way too big to take. We needed Corsearch's technology to tackle the scale of the problem."
Working in Partnership with Corsearch
"I loved the Corsearch onboarding process. Pamela Zuurbier-Brewer, our Customer Success Manager, helped us gather all the relevant materials and data so we could get up and running very quickly. Pamela is constantly communicating with our team and works closely with the Corsearch analysts. She listens to every single thing and provides expert advice. The analysts are really excited to be protecting Bob Ross' property, which makes me happy" Joan states.
"Corsearch identifies counterfeiters, prioritizes the most problematic sellers, and removes them really quickly. But we also lean on their expertise. They know that some platforms will only accept certain types of intellectual property and are stringent about the notices you send. Then there's other platforms that Pamela calls 'low-hanging fruit', where all you have to sneeze in their direction, and they take it down. There's no possible way we would have been able to learn it and do it here. It made me realize that what we were doing on our own previously was ineffective."
"There's been a few situations where I want to enforce a high-risk threat directly. Pamela's team are fantastic at actioning this. This is really important as we've got a lot of Certified Ross Instructors® that we need to protect as a priority."
"Corsearch has had an immediate impact with unauthorized NFTs. We have reduced the number of unauthorized NFTs to near zero on key platforms such as Open Sea. Now, the only NFTs you see on these platforms are those minted by our licensee Funko. With our systematic enforcement strategy, we have effectively dissuaded opportunistic NFT creators from continuing to prey on Bob Ross properties."
"We've recently authorized a second licensee to mint NFTs and we'll soon see what they come up with on the various marketplaces – without Corsearch though, I doubt I'd have felt comfortable enough to give NFTs a second go. I just feel less vulnerable now."
Examples of licensed "Pops!™" NFTs minted by Funko. Credit: Funko.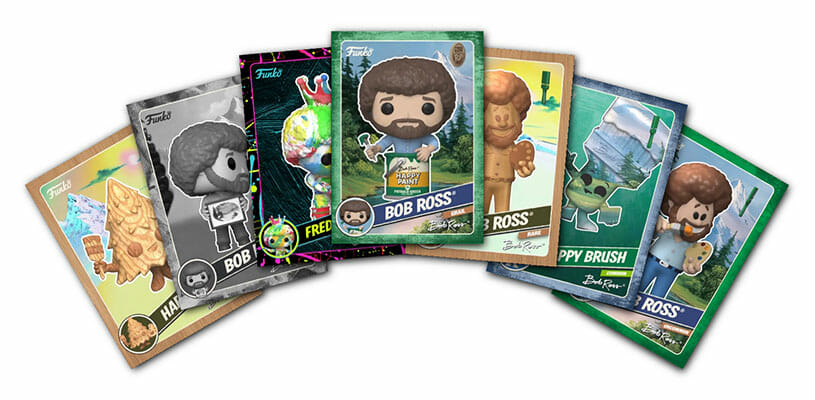 How Bob Ross Inc. Protects Its Licensees
"We license products that we believe Bob would want as his merchandise; there has to be heart and it has to embrace his lifestyle of creativity. People can sniff you out right away if it's just junk, or you've just slapped a logo on a product" Joan says.
"We understand that if we don't protect these licensees who have invested a lot of time and effort in making a piece of Bob Ross merchandise, then we've failed them. Popular brands like Funko won't want to work with us if we're just letting anyone use the Bob Ross property in any way they want. We need to protect what they've invested by keeping the property out of the hands of counterfeiters and infringers."
Prior to working with Corsearch, Bob Ross Inc. was extremely cautious in taking listings down in case they were legitimate; they did not possess a comprehensive list of their licensees' products:
"Pamela defined whitelists to us and what they would be used for. We then devised a worksheet to send to all our licensees. We requested a list of their assets such as product images, URLs, and social media handles. We also asked for data on resellers because they need to be protected as well. This process made licensees feel very taken care of. In fact, my licensing agent told me that she wishes some of her other properties would do it, too."
"It was a massive undertaking to get this data together, but it has been incredibly valuable. We can filter out all legitimate listings by our licensees and resellers from the ZERO platform. The whitelist also helps us to better understand our business, our partners, and our clients. It helps me to see who our licensees are selling to and who has never bothered to build relationships with resellers, instead opting to just sell on their own websites. This in turn helps me to make judgments when our licenses come up for renewal."
Joan explains that it was previously difficult for licensees to protect their products because there was also confusion about which party should be enforcing:
"Before Corsearch, we would often run into scenarios where a licensee thought that they should be taking care of an infringement, and we thought we should be taking care of it. With Corsearch, we now have one party that enforces on behalf of both Bob Ross Inc. and our licensees – and this is performed in a more connected, strategic way. Infringers know we mean business now because we're going that route."
Examples of licensed products. Photos courtesy of Bob Ross Inc.

Looking to the Future
"Now that we've cleaned up Redbubble and NFT marketplaces, we are switching our focus to Amazon and Facebook Marketplace. We've already made progress with Amazon, with stores operated by our licensees and resellers now whitelisted" Joan explains.
Joan states that she wants to work in collaboration with Corsearch's analysts and harness its technology to maintain and grow Bob Ross' IP portfolio:
"I've always believed almost anything you do you can distill anything down to a process, and that's what we're doing with Corsearch. In due time, we'd like to use Corsearch's trademark clearance tools to free up our attorney so he can focus on litigation."
Joan discusses her desire to eventually be able to enforce on copyright, not just Bob Ross Inc.'s trademarks:
"We've got a lot of video content that's copyrighted. Bob's paintings and instructional materials are copyrighted, and they're being used inappropriately. In due time, we're going to make it very routine, where tackling copyright infringement will just be like taking down trademark infringements."
"When we expand to content protection, we will be looking to Corsearch's solutions. Corsearch's analysts understand our property and its nuances. The difference between parody and infringement. The difference between First Amendment rights and stealing copyright material."
Corsearch can do the entire process from start to finish and handle the volume without any steps in the process suffering. You can't do brand protection without an expert partner and sophisticated technology – regardless of your organization's size. You can't collect all that data, identify and prioritize threats. Corsearch provides a great service, and the team are really passionate about protecting our intellectual property."
Find out how Corsearch can protect your brand
Over 5,000 global brands and law firms trust Corsearch to support them in establishing and protecting their brands.
Find out how you can safeguard your customers, brand reputation, and online revenue with Corsearch's advanced brand protection solutions.