Blog
The Importance of Logo Design in the Fashion Industry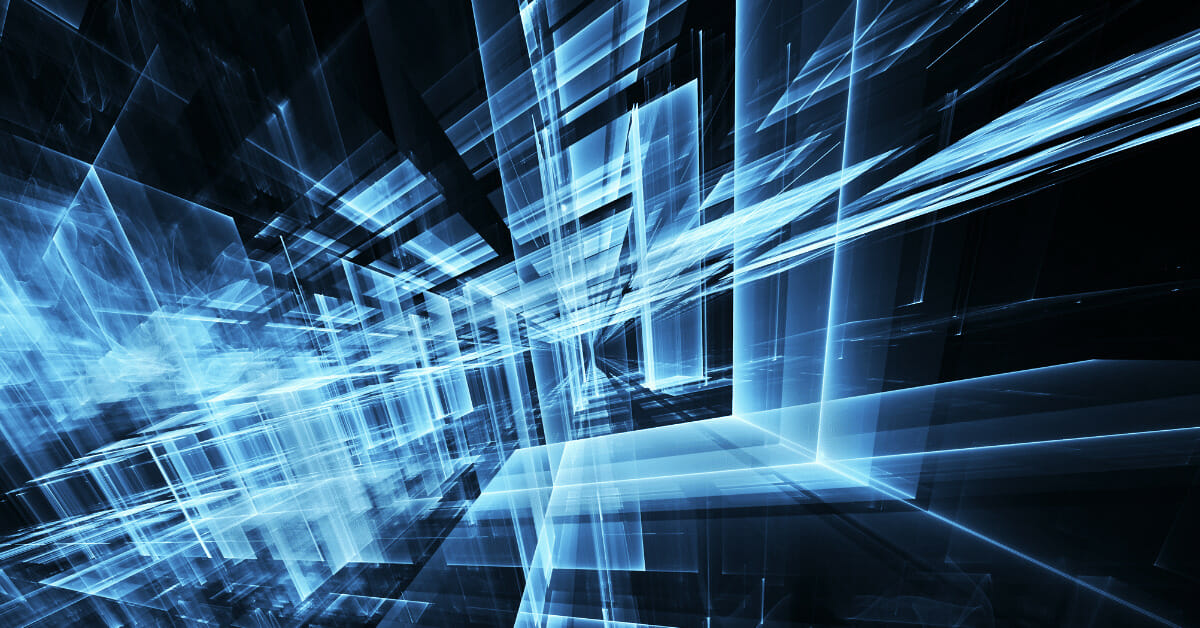 ---
According to a study by Statista, the fashion industry is projected to grow in value from $1.5 trillion in 2020 to about $2.25 trillion dollars by 2025, demonstrating that the demand for apparel is continuing to rise around the world.
For brand owners in the apparel industry, being able to stand out from the competition and attract customers in this crowded market is crucial. One of the best ways of achieving this for fashion businesses is through seasonal branding and/or having a strong, unique logo, which can move with the times. Recognizable logos often reassure the customers of the authenticity of the apparel and also act as a guarantee of the quality of the product. In fact, logos can have a strong influence on the overall image of both fashion brands and their consumers — many of whom display a real sense of pride when wearing a famous logo on their clothing, accessories, or footwear.
Seasonality and Logos in the Fashion Industry
Seasonality is one factor that may influence fashion design as brands often adapt their styles in order to meet customers' changing expectations. Seasonal branding is seen as an extension of general branding and typical examples include small updates to a logo in order to integrate a seasonal image or icon.
When it comes to logo design, seasonal changes necessitate frequent screening, clearance, and registration of both brand new and altered (previously registered) logo marks — which typically would comprise both figurative (graphic) and combined marks (standard characters and figurative elements).
While logo registration is extremely important for protecting intellectual property, the trademark search process for graphic elements has been notoriously challenging given the historical solutions available to practitioners. No source has complete information and there have been reported difficulties with image descriptor codes, such as Vienna codes. In the past, this process was slow, partial, and required a rigorous manual search by IP professionals of national and international registries for similar marks.
A New Solution for Seasonal Branding Challenges
This is where our innovative image-to-image search solution, LogoCheck™, can help. Powered by artificial intelligence, machine learning is now doing the heavy lifting on much of this work. Deep learning neural networks have been rigorously trained against millions of logo image samples and can instantly break candidate logos or designs down into their component parts to compare those components' similarities (including their shapes, concepts, letters, words, and colors) against those of existing logo images. Our technology allows IP professionals to run more complete design searches in less time and get back many hours to focus on other work.
So, how might IP professionals and fashion brands use LogoCheck in 2021 to streamline their work and make searching for new logo marks faster and easier?
Logo Design Trends
When it comes to logo design in the fashion industry, trends are crucial. Many designers are turning to new creative logo designs which include 'responsive' logos that can adjust to fit on a variety of screens, including those of handheld devices. A good example of this kind of responsive logo design can be seen when looking at the iconic Chanel logo. When their logo appears on a smaller mobile screen, its logo is unadorned by lettering.
In this article, I examine the practice of seasonal branding in the fashion industry and highlight a new solution that has been designed for brand owners and IP professionals to meet the challenges of IP protection in the fashion industry. I also look at some logo designs that are trending in 2021 and run my own logo search for a new responsive, fashion brand.

In addition to responsive logos, recent research into trending logo designs by Website Planet has uncovered some interesting statistics too. Combined marks are currently the most popular type of logo design with Fortune 500 companies, with more than 60% of these companies favoring this kind of design. Why? Because combined marks include both a word mark and an icon, they are extremely versatile and allow companies to use the icon, the text, or the full combination — depending on the context. Other kinds of logo designs currently popular with Fortune 500 companies include word marks, letter marks, emblems, abstract icons, and pictorial icons.
Using LogoCheck to Search For a Responsive Fashion Logo
Let's suppose your apparel company has come up with a new rugged denim and outerwear brand, and their top choice for a name and logo design is "Afterburner". They plan to launch the brand initially in the United States, Canada, the UK, and Ireland.
The design or marketing agency has proposed using a stylized jet fighter with a gothic font as a combined mark and has delivered four designs to be used responsively on the company's products and marketing, as shown.

As the trademarks manager in your company's legal department, your job is to screen the agency's logos for potential conflicts.
Using LogoCheck's image recognition AI and flexible filters, you can perform this task in several ways. One approach is to first search by Product/Vienna codes in the four countries, together with the relevant Nice classes and product types: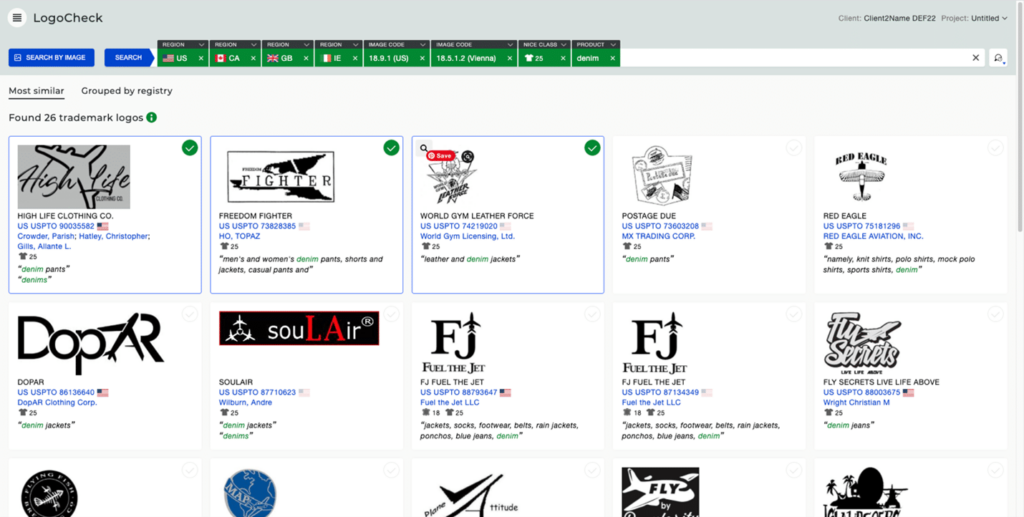 Then, you can upload your responsive logos in succession to check for similar logos using image recognition. This allows you to research trademark details and the trademark portfolios and litigiousness of potential opponents, selecting logos into your report as you go.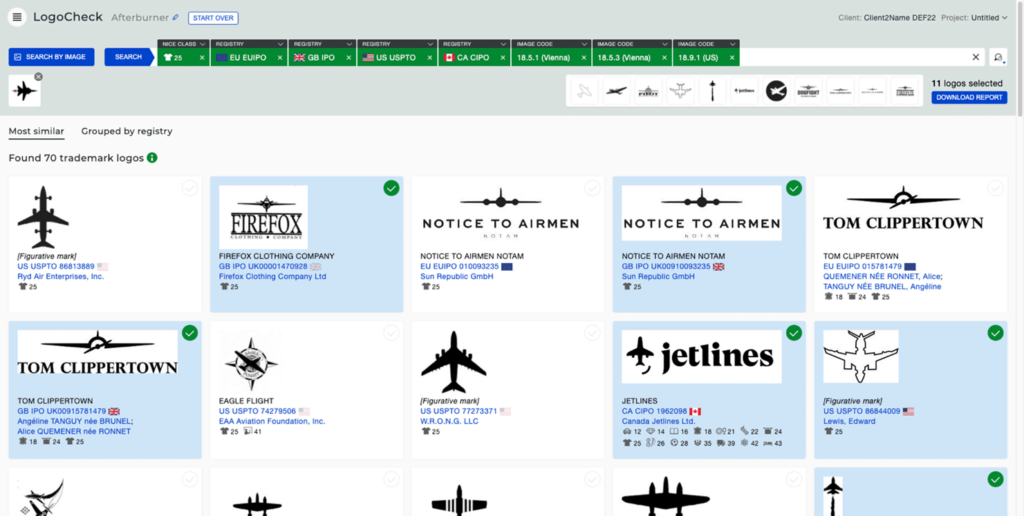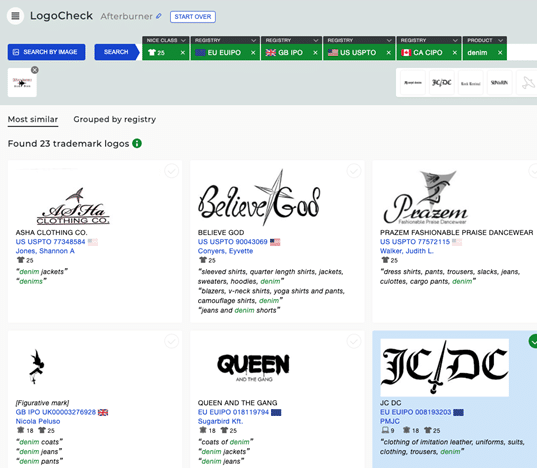 Finally, you can download your report into Word, PDF, or Excel, and share it with your colleagues.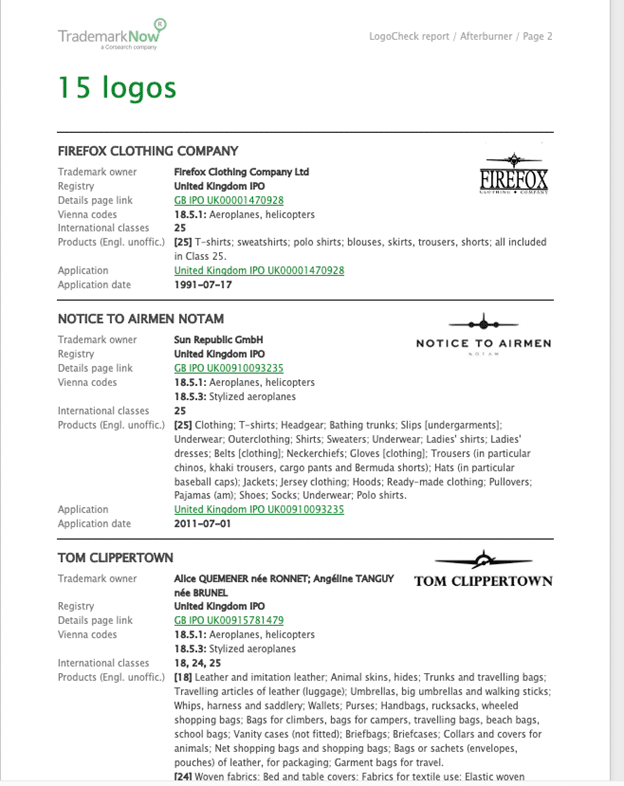 Leveraging Technology and Human Expertise Make Logo Clearance Quick and Easy
LogoCheck's AI enables quick and easy self-service preliminary logo research and screening — all on one platform. This allows brand owners in all industries to have the flexibility they need to 'brandstorm' together with their creative and marketing teams, whether in person or online.
A quick quality check enables you to knock out weaker logo candidates, thus reducing your original list of logos and risk level, before moving your stronger logo candidates to a full, robust, Device Search and obtaining a comprehensive clearance and strategy report.
Contact us today to book your 1-1 LogoCheck™ demo and see for yourself just how easy it is to use.
Disclaimer: Inclusion of any brand names or trademarks in this article does not imply any relationship with Corsearch. All included names and entities are used for illustrative purposes only.