Company-news
An Interview with Corsearch CPO, Malia Ladd
---
Building on our previous acquisitions of anti-piracy solution providers, Marketly and Entura, we have continued to strengthen our brand and content protection offering with the acquisition of online brand protection provider Incopro in June 2021.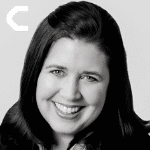 With the expansion of our overall product portfolio, we have become a truly global organization serving thousands of users around the world, helping them establish and protect their valuable intellectual property. To elaborate on our recent growth, we interviewed Malia Ladd, our Chief Product Officer.
In the following article, she articulates precisely what these recent acquisitions mean for our clients and how the integration work is progressing.
How is the business moving forward with the integration?
We've taken strength from all of the businesses we've acquired, bringing together the best in our industry in terms of technology and talent.
We're extremely aware of how vital it is that we keep moving forward, that we don't slow down during this time. With so many acquisitions recently, naturally there's a risk of being seen as slow moving by the market. This is absolutely not the case. Whilst we acknowledge the level of work involved in integrations, this won't stop us from being agile and innovative in the process. We're still moving forward, and innovation remains at the core of our business.
We're striving to make sure we deliver the best of all our businesses, whilst making room for innovation and meeting our customers' needs. Ultimately, our aim is to give our customers the strength of our collective.
This means making sure we balance the need to be responsive to our customers, by considering how we dedicate resource to supporting their needs and solving their problems efficiently, whilst moving forward with our integration development efforts.
What has Corsearch gained during this time?
Among the greatest strengths that we've gained through acquisitions is the people that have joined. It's obviously vital to invest in these incredible platforms and technologies, but it's such an extraordinary opportunity to bring together the greatest minds and experience in the industry.
Cool tools are fantastic, and we know we have some amazing technology, but at the moment we are a technology-enabled services company. The human element is still critical. The collective expertise that we now boast is inspiring and exceptional. What's more, we're in a fast-moving, continuous learning environment. It's a truly exciting time for our business and our customers.
Clearing trademarks, protecting brands from abuse online, these are massive global issues on a huge scale, with highly localized intricacies. Be joining forces, our increased global footprint propels us even further ahead from a competitive standpoint.
This is a major advantage for us, the economy of scale. With greater global expertise, an expanded global presence and an increase in our local experts and languages, we are exceptionally well covered. What's more, we've expanded our legal network and investigative expertise. This provides a lot of credibility.
What edge will this give Corsearch over competitors?
This economy of scale is truly a differentiator and allows us to serve our customers better than our competitors. It feeds into all aspects of our business, from our global footprint and expertise, to our technology and expansive data coverage in the industry.
The application of AI and our imaging technology tools across the most expansive data coverage in the industry means we can utilize these more effectively than any competitor. And turning this data into precise, actionable insights though our business intelligence and analytics will further empower our customers and teams to drive accurate decisions across their clearance and protection strategies.
How are you involving customers in this journey?
We used to be able to sit and talk with our customers, but obviously during recent times this hasn't been so easy. We are making sure to connect with and listen to our customers, to make sure they're involved in the process. We'll be focused on industry groups and our advisory board. We'll be listening to the INSYNC community. We'll also be running focus groups at the platform user level to fully understand our customer needs and make sure our solutions are brought together in the most effective way.
Will there be any impact on customers during this time?
Clearly, we never want to affect our customers in a negative way. Any time we acquire a company, one of the imperatives we set is to not negatively impact or lose customers. This notion is applied to decisions across the entire organization: how we migrate, how we build, how we scale – all these things need to positively impact our customers.
Becoming a customer-first organization means every decision we make or path we take is taken with the customer in mind. It means making sure we enable teams to operate as efficiently and effectively as they can to achieve their goals, so they can focus on their roles as SMEs. The opportunity to increase proficiency through efficiency is a key focus for us.
What have you enjoyed the most during this time?
There aren't many times in your career that you get the opportunity to become dear friends and close to the people that used to be your foes.
There's so much we've gained, not only the people, but the things you really respected about your competitors. We have massive respect for what they've built, how they've built it, how they've been serving their customers. Being able to know that all this now sits under one roof, we can now use this positive expertise and technology for the greater good to solve problems.
That journey just isn't something many people get the chance to take.
What's been the greatest challenge?
The greatest challenge we face is the operational aspects of growth. Being able to proficiently support faced-pace growth, customer growth, revenue growth, and workforce growth all provide unique challenges. We've gone from 200 to 1,300 employees in a couple of years, for instance. Keeping up with a face-paced industry and staying ahead of the curve, whilst not getting bogged down in integration work, can be a challenge. Additionally, supporting our customers and business growth during COVID has thrown some new challenges into the mix.
Focusing on the customer as a driver and continuing to keep that front of mind is vital.
What are you most excited about in the future?
This is a unique opportunity to take all of the wonderful gifts each of our acquisitions have given us, and turn it into something special which helps each of our customers solve more problems, more efficiently.
Remember, during the pandemic, the infringers didn't stop. They continued learning, continued evolving, continued targeting brands and consumers in more sophisticated ways. Knowing we have the best tools, the biggest toolkit and the best expertise to serve our customers means we can move forward with confidence.
This is what makes me most excited about the future. We're on the cusp of amazing things. We're never in short supply of ideas, and look to continue to innovate in ways to support our customers greatest needs. Now we're taking the steps to evolve the business and support customers how we need to. The hardest part is being patient in seeing that process through.