Blog
Counterfeiting, Piracy, and Sports: IP Protection Insights for Brands and Fans
Brand Protection
Content Protection

---
With the Euro 2020 championships beginning soon, football is a topic on the lips of many. With an estimated audience of 3.5 billion people worldwide, football is often considered the world's most popular sport. But, whether it's free football streaming on Reddit or cheap replica football jerseys on social media, the game and its teams face numerous brand protection challenges.
Why Do Sports Brands Need Protection From Counterfeiting and Piracy?
The popularity and passion inspired by football (soccer for our American readers) makes it a prime target for counterfeiters, IP infringers, and digital pirates. The EUIPO estimates that €500 million in revenue is lost annually by the sporting goods sector as a result of IPR infringement, and seizures from individual countries tell us even more. In January 2019, U.S. law enforcement agencies seized over 280,000 counterfeit sports-related items worth an estimated $24.2 million. In the same year, U.S. Customs and Border Protection detained over $11 million in counterfeit sports jewelry.
In one well-publicized example of popular sports fakes online, when the U.S. Women's soccer team won the World Cup in 2019, their shirt became so popular that at one point at least six of the top ten most popular sales listings on Amazon.com were, according to Wired, potentially counterfeit.
Why are sports fakes so popular? Although some believe this is due in part to the high price of genuine goods such as replica soccer shirts, it seems just as likely that the levels of dedication and commitment from fans often means that they are keen to buy the widest possible range of products emblazoned with their team's trademarks — regardless of where they come from. When fans buy fakes, however, this is to the detriment of the sport itself as it denies the chance of reinvestment, may give money to organized crime, and potentially puts consumers in danger from unsafe, untested goods.
When it comes to digital piracy too, stopping free football streaming has become a significant challenge for rights holders. A study by the Sport Industry Group found that consuming free sports streams has become a normalized process for many fans. 54% of Millennials admitted to having accessed a sporting event stream illegally and a further third admitted that they did so regularly. Although the upcoming Chelsea Vs. Manchester City match may have some fans searching Reddit and other platforms for a free Champions League stream, the problem is much wider than soccer alone.
To give this some recent context, in April 2021 the boxing events company Triller Fight Club filed a U.S. lawsuit against several groups it claims illegally broadcast its 17th April pay-per-view boxing event. Triller claims that the event, headlined by the fight between Jake Paul and Ben Askren, was streamed illegally more than 2 million times, losing the company hundreds of millions of dollars as a result.
If a relatively small boxing event can result in this kind of illegal attention, then free football streaming must be taken even more seriously. Google Trends in recent weeks illustrates this point well. While worldwide searches for "pay stream champions league" are negligible, searches for "stream champions league free" and "champions league stream reddit" have seen regular, large spikes. Interestingly, these searches are not just from countries such as the UK, which is home to the two teams in the final, but from places such as Kenya, Croatia, Slovenia, Slovakia, and Lithuania.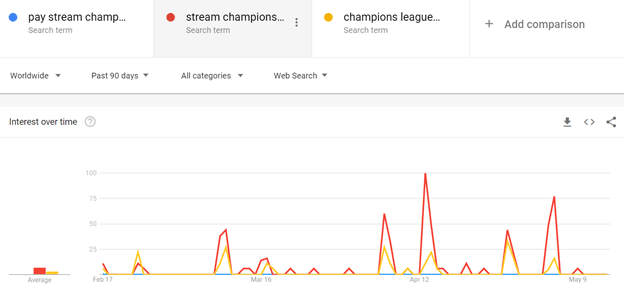 Do you want to know more about how our brand protection or content protection solutions work? Please visit our pages to discover more.
Trends in Sports Counterfeits and IP Infringement
When it comes to trends in sports brand protection, Corsearch works over the long term to protect multiple sports brands from counterfeiting and IP abuse. Below, we consider some of the trends apparent from protecting these sporting organizations between 2019 and 2020.
Focusing on the number of infringing online listings we removed for the relevant sports brands, our report found that when it came to eCommerce marketplaces, the most commonly filed IP complaints were on Redbubble, followed by eBay (across its various branches), and AliExpress (across its various branches). Over the course of that single season, some of the more recalcitrant sellers had in excess of 1000 listings each removed.
Perhaps because stories about IP infringement in sports often come from high-profile seizures of fake replica kits or equipment, most brand protection providers consider that counterfeiting is the biggest problem faced by sports brands. Our report, however, showed that counterfeiting and trademark abuse are just as common as one another, with 51% of all reported listings on eCommerce marketplaces being cited for trademark infringement. This shows that when looked at over the long term, sellers are just as likely to create or adapt products using a sports trademark as they are to offer a direct fake of an existing item.
Which country sells the most counterfeits or commits trademark infringement most frequently on eCommerce marketplaces?
Our analysis of 2019/20 sporting season for our brands revealed that when we considered the location of the eCommerce profiles selling fakes, the top ten countries we enforced against were:
China
United Kingdom
The United States
Hong Kong
Egypt
India
Ireland
Canada
Germany
Nigeria
Which social media platforms have the most fakes or IP abuse?
Our Analysts submitted IP infringement reports on multiple platforms, but the four most common were:
Instagram
Facebook
Twitter
TikTok
In the case of social media, we found that copyright infringement was far more prevalent than trademark abuse. The profiles reported did sometimes offer counterfeit goods, but there was a wide spread of IP infringement examples, including impersonation, trademark misuse, and the posting of copyrighted images and videos. Collectively, the profiles we reported against had several million followers.
What are the most popular fake sports products?
Over the course of the season, we found that the following items were most commonly complained about:
Jerseys / sports kit
Merchandise
Phone covers / cases
Apparel
Trophies
Patches and numbers
Equipment
IPTV
Masks
Cheap replica football jerseys are the most popular form of counterfeit soccer product. Although the prices for these products are significantly lower than for genuine goods, in recent years many of them have become high-quality fakes, which has increased their popularity because of their ability to "pass" as genuine. Although many online shoppers buy cheap replica football jerseys and kits intentionally, there are many more who do so out of confusion.
The increasing quality of fake soccer kits has resulted in many fans asking simple questions, so here we answer some of the FAQs about fake sports kit:
Q: What is the difference between counterfeits and replicas?
A: In the world of professional sports, the apparel worn by players may be embedded with new technologies or expensive materials that would be unnecessary for anyone off the field. For this reason, sports clubs and kit manufacturers produce replica versions (sometimes called 'fan' or 'stadium' versions) of the same pieces of kit. These replica items are typically lower cost and a more comfortable fit for fans.
Counterfeits on the other hand are kits or jerseys produced by manufacturers who have no official relationship with the team or the kit maker. These counterfeiters use the trademarks of the official kit to create illegal versions that divert sales away from official creators and use materials and working practices that are potentially unsafe or unethical.
Q: Are replica football shirts fake?
A: Not necessarily. As mentioned above, a replica jersey may just be one of the names for an official fan shirt. It is important to note, however, that counterfeiters often use the term "replica" when they mean fake. Online sellers of counterfeit sports apparel will often combine the term "replica" with other key search terms such as 3A, AAA, or A+++, which are designed to act as an indicator of the quality of the fake. Anyone buying cheap replica sports kit from Asian eCommerce marketplaces or social media platforms should be careful to thoroughly check what they are buying.
Q: How can you tell if a football shirt is real?
A: As with all transactions, the most telling indicator of whether a product is genuine or not is price. As the saying goes, if it seems too good to be true, it probably is. In addition to price, quality is a key indicator (whether this is the quality of the material itself or small details such as stitching). Official products also generally have barcodes, holograms, labels, and other security devices. For online shoppers, however, these details may not be available, so the key is only to buy from a trusted source. If in doubt, buy directly from the manufacturer's website, a known and trusted retailer, or from the sports club itself.
If you want to know more about sports brand protection, or the solutions Corsearch offers for anti-counterfeiting, IP protection, and anti-piracy, please contact us today.