Press-releases
Corsearch Acquires Yellow Brand Protection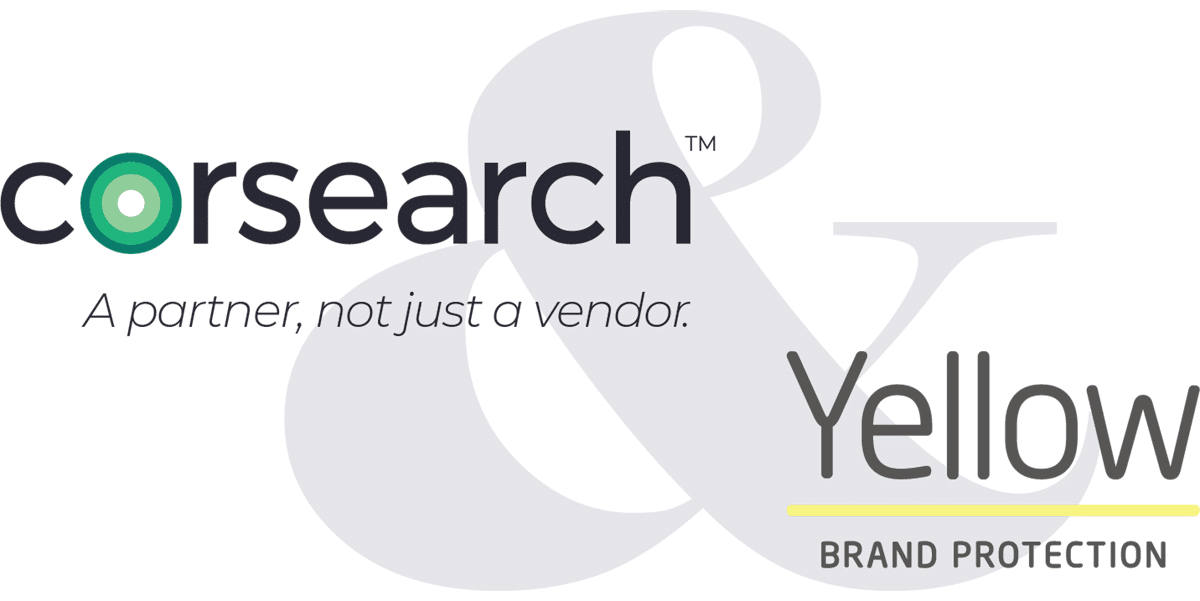 ---
After 70 years as an industry leader in brand establishment and protection for trademark and brand professionals, Corsearch reached yet another milestone this week with its acquisition of Yellow.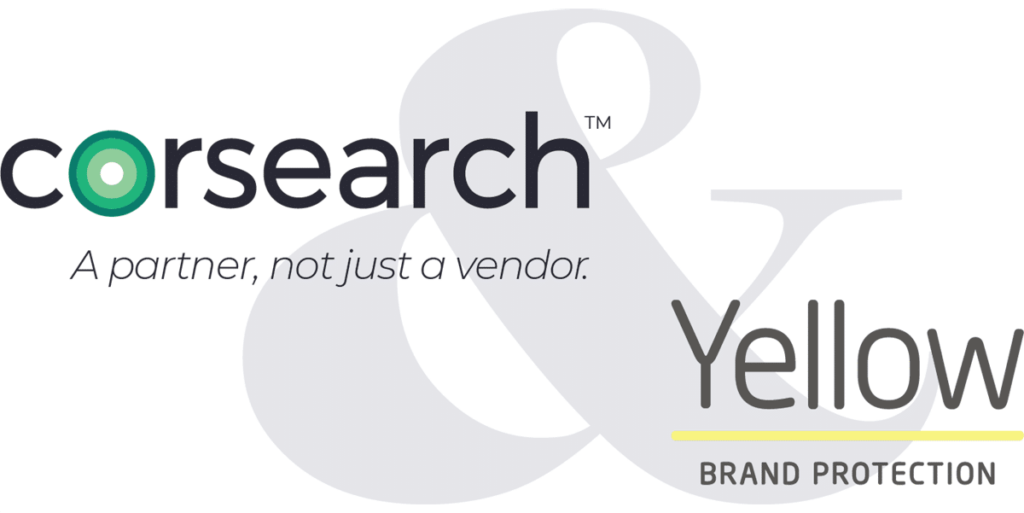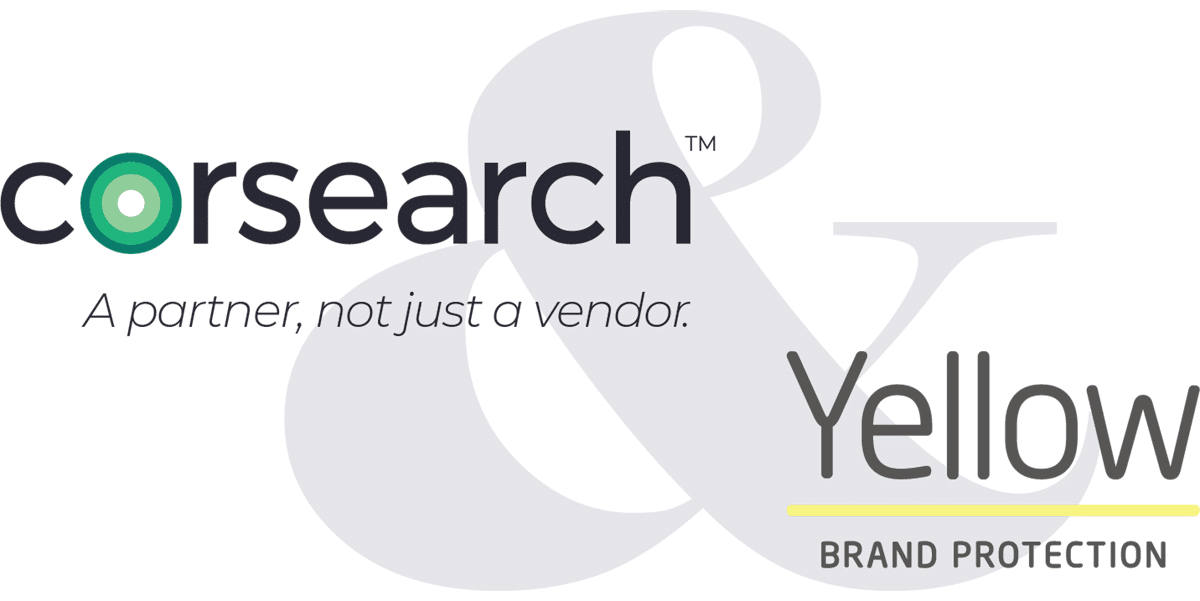 Yellow Brand Protection, founded in 2010, provides brands with resources to prevent counterfeit product sales, revenue loss and reputational damage anywhere online, including in over one thousand online marketplaces and 35 social media platforms around the globe. And boasting a 94% protection rate, Yellow now provides services to four of the top ten "World's Most Valuable Brands" according to Forbes.
"Companies large and small are realizing the importance of protecting their brands, sales and consumers from online counterfeiting and IP infringement," said Yellow's CEO, Daniel Bennett. "Corsearch and Yellow are an outstanding fit. Our leading technology and employee expertise, combined with Corsearch's trusted industry presence with leading companies and IP law firms, will further increase our value to businesses in the marketplace globally."
The facts speak for themselves in this industry – In 2018, online sales will approach $3 trillion U.S. Dollars, with one in four online purchases involving pirated goods. Online IP infringement is a continued and increasingly expanding challenge for all brands, as e-commerce growth continues at record speed and digital marketing becomes a core business strategy.
The purchase of Yellow by Corsearch enables the companies to join forces and provide the industry with a full-suite and forward-looking offering of brand protection services to support the creation, establishment, growth and protection of valued IP.
"We are thrilled to be combining these two well-established companies," said Tobi Hartmann, CEO of Corsearch. "Corsearch and Yellow will be even stronger together, providing our clients with a robust offering of trademark, domain and online brand protection solutions."
Brian Conchuratt, Corsearch's Director of Digital Brand Solutions, stepped in to answer some questions about the acquisition:
What exactly is being announced today?
Corsearch has signed an agreement to purchase Yellow Brand Protection, one of the world's leading online brand protection providers.
Who is Yellow Brand Protection?
Yellow Brand Protection is a leading global provider of online brand protection and anti-counterfeiting services. Yellow offers the widest search reach on the market, covering 1000 online marketplaces worldwide including more than 200 in China alone. They employ a worldwide team of expert analysts from more than 15 countries that between them speak more than 20 languages. They are based in Varberg, Sweden and maintain offices in Boston, Shanghai and London.
Why are Corsearch and Yellow Brand Protection a good fit?
In recent years, our customers are increasingly turning to us to help them discover and combat online threats to their intellectual property. Until now, we have focused on a partner strategy to address that need. With Yellow, we can now proudly offer a premier in-house solution for online brand protection that strengthens Corsearch's service offerings and reinforces our value proposition to the IP community.
How does this help Corsearch improve its online brand protection offering?
Yellow Brand Protection is a highly established leader in the online brand protection and anti-counterfeiting industry, with market-tested technology and a true international footprint. Having launched in 2010, they have grown very quickly, expanding both the customer base and the breadth of their technology to emerge as a force in the market. In Yellow, Corsearch saw a strategic opportunity to acquire a top-notch technology platform and a fantastic team, with a customer-driven culture that fits very well with our own. We are extremely excited to be working with them side-by-side to create better solutions for our customers.
What services does Yellow offer?
Yellow's ZERO platform offers full-service monitoring and enforcement capabilities across a variety of channels, including:
Web & Domain Names
Marketplaces – the deepest coverage in the industry
Social Media
Mobile Apps
Paid Search Ads
The ZERO platform also includes advanced clustering of related infringements, image recognition and an automated risk scoring mechanism, each of which are aimed at facilitating efficiency in investigations and enforcement. This is a well-designed and highly competitive product that compares well-above every platform on the market.
When can I learn more about Yellow? Who should I contact if I have questions?
Over the course of the next two months, we will be working hard on the integration of our commercial platforms and joint offerings, including providing you with detailed product information. In the short term, if there are questions or an immediate interest in the product, please contact your Account Manager, or reach Corsearch here.