Blog
Trademark Growth In Switzerland Demands Innovative Search Solutions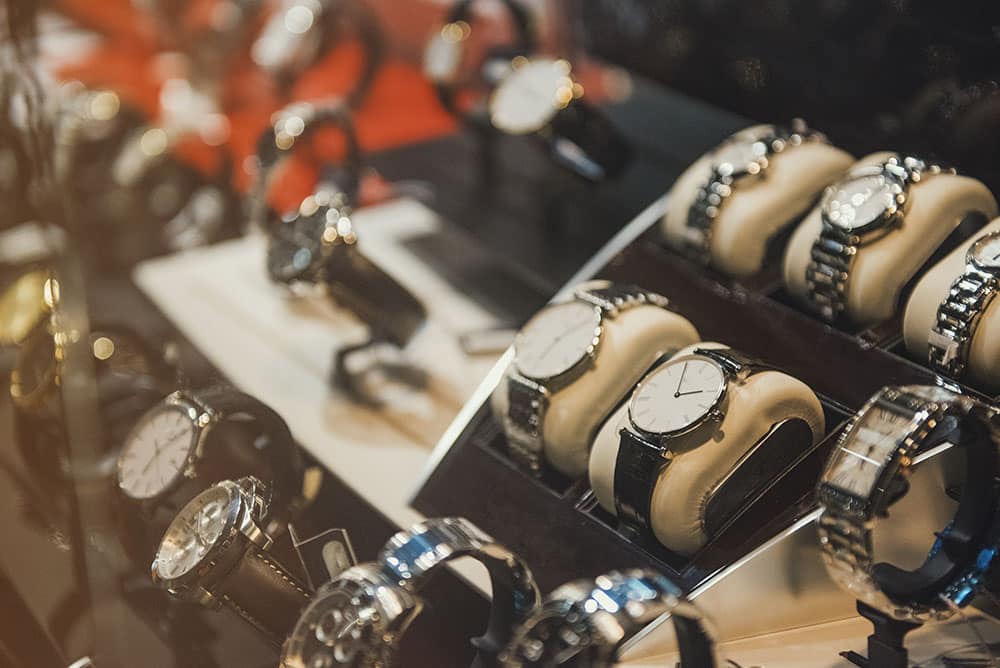 ---
Did you know that trademark activity in Switzerland's registry grew by 15% between 2018 and 2021? This significant increase in filing volumes has resulted in a need for fast and reliable Swiss trademark screening, search, and clearance solutions — to better serve a growing Swiss market.
In this article we take a look at the economic drivers in Switzerland today and examine Swiss trademark activity over the last four years. We also highlight innovative search solutions for IP professionals that are dedicated to the Swiss market, and let you know about a brand new, special offer that Corsearch has for you to help you to streamline your trademark registration and brand protection processes in Switzerland and abroad!
Economic Drivers in Switzerland
Switzerland is one of the leading economies in the world today and according to the World Bank Switzerland had a GDP of $752,248.05 million in 2020. But what springs to mind when you think of Switzerland? Chocolate or watches? Although these two products are ubiquitous in the country, the economy in Switzerland is, in fact quite diverse, and is divided into three sectors, namely: agriculture, industry and services. The most established of these is the service sector, which comprises around 72% of Swiss GDP, followed by industry (27%) and agriculture (1%).
1. Service
Switzerland's insurance, tourism and banking industries dominate the service sector. Swiss banks form a significant part of the service sector — with Credit Suisse and UBS being two well-known examples.
2. Industry
The industrial sector is mostly dependent on import-export. Rolex, Nestlé, and Swatch, are examples of well-known brands in this sector, although small and medium-sized enterprises (SMEs) conduct the majority of trade. Watchmaking does also play a major role in the growth of Swiss economy as Switzerland is one of the leaders in the export of high-quality timepieces.
3. Agriculture
In spite of Switzerland's famous mountain views the country is not widely thought of as agricultural. However Swiss agriculture actually produces more than 60% of food for the population.
Some of these economic drivers are reflected in analysis of the Swiss trademark register, which reveals a high proportion of filings in Nice service classes over the last four years.
Swiss Trademark Data
When analyzing trademark data in the Swiss Registry (CH IPI), retrieved by Corsearch's ExaMatch™, to search Swiss trademarks, we see that from January 1st 2018– December 31st 2021 the overall volume of trademark applications has increased by 15% over this four year period.
It is perhaps not a huge surprise that the bias towards a service industry economy in Switzerland is reflected by trademark findings — three of the top five Nice Classes are Service Classes with Class 35 (Advertising and Business) taking first place on the list with a 10% ratio share. Class 41 (Education and Entertainment) and Class 42 (Research and Development) are in third and fourth position.
CH IPI Trademark Applications (2018-2021) — Nice Class Analysis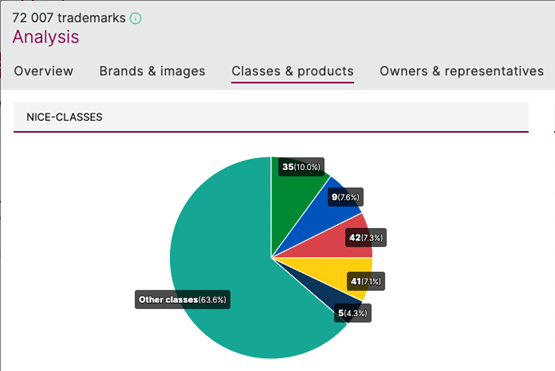 And, it is interesting to note that nine out of the top ten product descriptions are also found in Service Classes — save "Software" which is attributed to Class 9 (Electrical and Scientific Devices).
CH IPI Trademark Applications (2018-2021) — Top Product Descriptions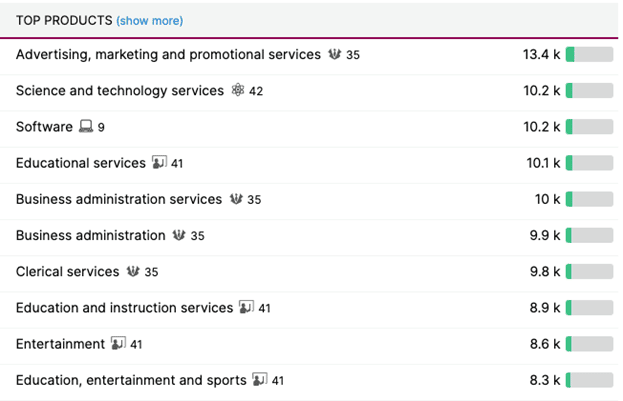 Data retrieved by TrademarkNow's ExaMatch™
Search Smarter in Switzerland
Corsearch's unique dual approach of smart automated trademark searching married with expert human experience is one of the reasons why we are a trusted provider of professional trademark search in Switzerland today. By leveraging technology and human expertise Corsearch delivers fast, comprehensive search results in Switzerland and abroad for our clients.
Our innovative technology and trademark databases are updated regularly and contain official sources of fresh data from more than 180 countries' PTO databases, including the Swiss registry (CH IPI) and WIPO.
Our trademark search analysts that serve the Swiss market are native speakers (Swiss German, French, Italian, and English) and highly experienced trademark professionals. And, our clients get dedicated customer support from our global Customer Success team, which operates in multiple time zones, to ensure first-class customer service.
From trademark research, screening, clearance search, and watching — Corsearch has you covered. We offer a wide range of trademark solutions — as well as in-use investigations in Switzerland and globally.