Blog
Platforms' key role in protecting consumers from fake vaccines and COVID-related scams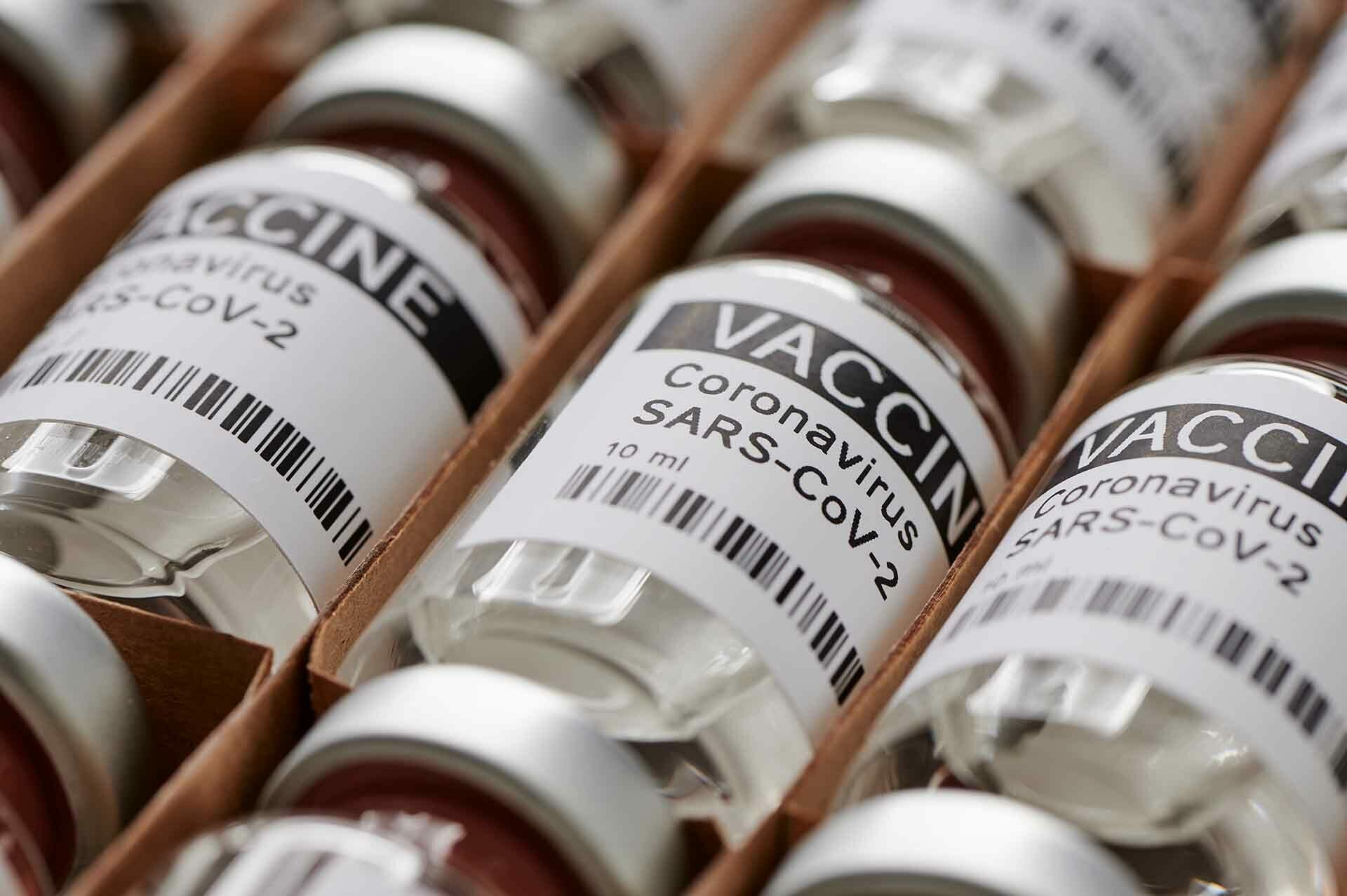 ---
As we begin to slowly emerge from the shadow of COVID-19, consumers still need to be vigilant of scams and fake products offered by bad actors online. And pharmaceutical companies that are producing life-saving vaccines have now emerged as the next big target for criminal operations.
Bad actors have once again shifted focus, moving on from COVID-19 testing kits to selling fake vaccines, hijacking pharmaceutical brand names, and spreading disinformation.
Corsearch's Brand Protection experts have highlighted three key issues online:
1. Listings for COVID vaccines on B2B and B2C marketplaces
2. Criminals selling COVID-related products – including fake vaccine passports, ID cards, and test results
3. Fake social media pages using COVID vaccine brand names
Law enforcement agencies such as Interpol have been actively investigating vaccination scams online and enforcing on behalf of pharmaceutical brands. However, they are unable to take on bad actors alone. Stronger collaboration between platforms, lawmakers, public health bodies, and brands is needed to safeguard consumers.
1. Listings for COVID vaccines on B2B and B2C marketplaces
According to cyber security researchers, the number of adverts seen for vaccines on hacking forums and other marketplaces has tripled to more than 1,200 since January[1].
Corsearch's experts have detected several unauthorized listings claiming to be 'COVID-19 Vaccine Direct Suppliers' on B2B platforms EC21, Ecplaza, and Tradekey. With the listings not directly referring to branded vaccines, identifying the key platforms sellers use to advertise these fake or unauthorized products plays a significant role in proactive enforcement.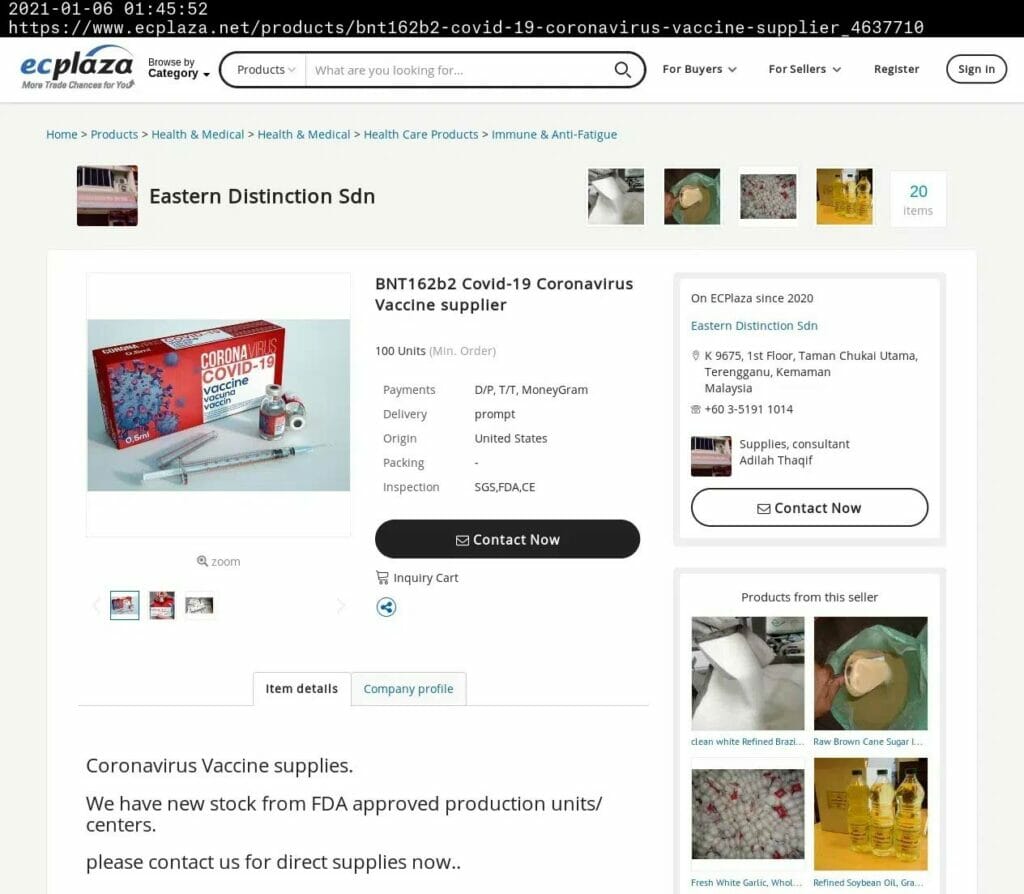 Example of unauthorized listings on B2B marketplaces
COVID vaccine listings can often also be found on B2C platforms such as eBay, Etsy, and Craigslist. These usually involve sellers offering slots to get the vaccine. COVID vaccine manufacturers have confirmed to Corsearch that the majority of these online offers are scams.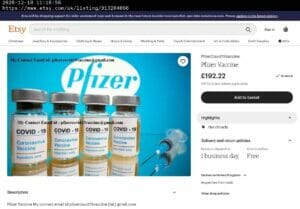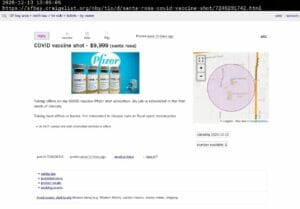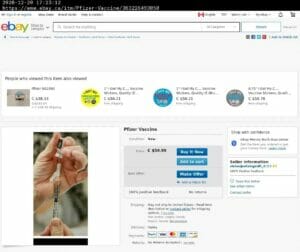 Examples of unauthorized listings on B2C marketplaces
In February 2021, authorities in China arrested the leader of a multi-million-dollar vaccine scam. The individual responsible had researched the packaging designs of legitimate vaccines before producing over 58,000 solutions that simply contained saline solution and mineral water[2]. Alarmingly, a batch of the fake vaccines were smuggled overseas, and their destination is still unknown.
It is critical that platforms work with brands to have these types of listings removed swiftly. As long as vaccine listings remain visible on a platform, consumers are put at serious risk of being scammed, damage is being inflicted on the vaccine manufacturers' brand, and global vaccination programs are in danger of being undermined by queue cutting.
2. Criminals selling COVID-related products
With plans for vaccine passports and identity cards to be adopted in the months ahead, some bad actors are looking to get ahead of the game. Fake identity cards, vaccine passports/certificates, and even test results are being sold on e-commerce websites and, increasingly, the dark web[3].
These types of fake goods are particularly dangerous, as unscrupulous individuals could use them to fraudulently gain access to COVID-secure venues and to travel abroad – with the real risk they could be carrying the virus.
Law enforcement agencies such as the Federal Drug Agency in the US (FDA) are pursuing false COVID-related products and are notifying registrars when their services are used by bad actors. However, with over 1,000 COVID-related domains being registered per day[4], registrars need to do more; they should not be waiting to be notified by brand owners or law enforcement before acting.
3. Fake social media pages using COVID vaccine brand names
In October 2020, Corsearch's experts identified a private 'investment study' group on Facebook with over 1000 members using a vaccine manufacturers brand name. As this type of social media activity is not authorized, it is important to remove these pages to ensure that only factual information regarding the vaccines is circulated.
Other fake social media pages have been set up with the sole intention of scamming consumers. In August 2020, the HMRC (UK) reported it was currently investigating over 10,000 COVID-related phishing scams[5].
Fake social media pages with COVID vaccine brand names have also be set up with the intention of spreading misinformation and conspiracy theories. It is critical that platforms are able to identify and remove these groups before they contribute irreversible damage to public health and trust in global vaccination programs.
Corsearch's experts have even come across instances of fake social media accounts set impersonating members of leadership teams at vaccine manufacturers, with the intention of gleaning sensitive business information.
Platforms have a key role to play
While listings for fake vaccines and other illegitimate COVID-related products are eventually removed, marketplaces have been criticised for being acting too slowly, thus putting consumers and brands at risk.
Throughout the pandemic, social media platforms have also come under fire for their slow removal of vaccine and COVID-19 disinformation (false or misleading information that is deliberately created / shared to cause harm[6]). Recently, platforms such as Facebook and Twitter have publicly committed to stricter controls on COVID disinformation – and misinformation (false or misleading information that is unwittingly created or shared without meaning to cause harm[7]).
In March, Facebook CEO Mark Zuckerberg addressed US lawmakers on the variety of tools deployed by the social media platform to prevent harmful misinformation about COVID-19 from spreading. During the last 12 months, Facebook has partnered with over 60 global health experts to provide accurate information surrounding COVID-19 and vaccines. In December 2020, the platform announced that all vaccine misinformation would be banned. Users who violate the policy will be suspended and eventually banned if they continue to flout the rules[8].
However, certain types of misinformation that is shared by individual accounts rather than large groups – such as personal anecdotes on vaccine side-effects and effectiveness – pose a grey area to platforms. This misinformation is usually left unmoderated without public health warnings attached.
With roughly 30% of Americans continuing to express some hesitancy around getting a COVID vaccine[9], platforms, lawmakers, public health bodies, and vaccine manufacturers need to work together to tackle disinformation, misinformation, and fake COVID products.
What can pharmaceutical brands do?
Automated Brand Protection technology is critical to discovering, prioritizing, and actioning online threats. Alongside sophisticated keyword matching, image matching and OCR capabilities help brands discover bad actors that avoid using brand-related keywords.
Online investigations and Network Analysis technology is also key to identifying criminal networks and prioritizing the largest targets. Information gathered from multiple sources can then be used to act against these criminal operators both online and offline.
Brand Protection: Critical to Protecting Consumer Health and Trust
By allocating resources towards safeguarding consumers and focusing on the most visible digital channels, you will be able to tackle misuse and maintain trust in your brand.
A renewed focus on Brand Protection technology and strategy is essential to winning this battle. Learn how Corsearch can help you successfully navigate the threat landscape and remove the greatest risks to your business.
This blog was originally published on the Incopro website.
References
[1] https://www.bbc.co.uk/news/technology-56489574
[2] https://www.bbc.co.uk/news/world-asia-china-56080092
[3] https://www.bbc.co.uk/news/technology-56489574
[4] Sourced from 9th Annual Pharma Anti-Counterfeiting & Serialisation Conference 2021
[5] https://www.infosecurity-magazine.com/news/hmrc-investigating-covid-related/
[6] https://www.bmj.com/content/372/bmj.n26
[7] https://www.bmj.com/content/372/bmj.n26
[8] https://www.theguardian.com/technology/2021/mar/15/facebook-study-covid-vaccine-skepticism
[9] https://www.npr.org/sections/coronavirus-live-updates/2021/03/12/976172586/little-difference-in-vaccine-hesitancy-among-white-and-black-americans-poll-find