Blog
Corporate Social Responsibility and IP: How Corsearch Supports Your CSR Goals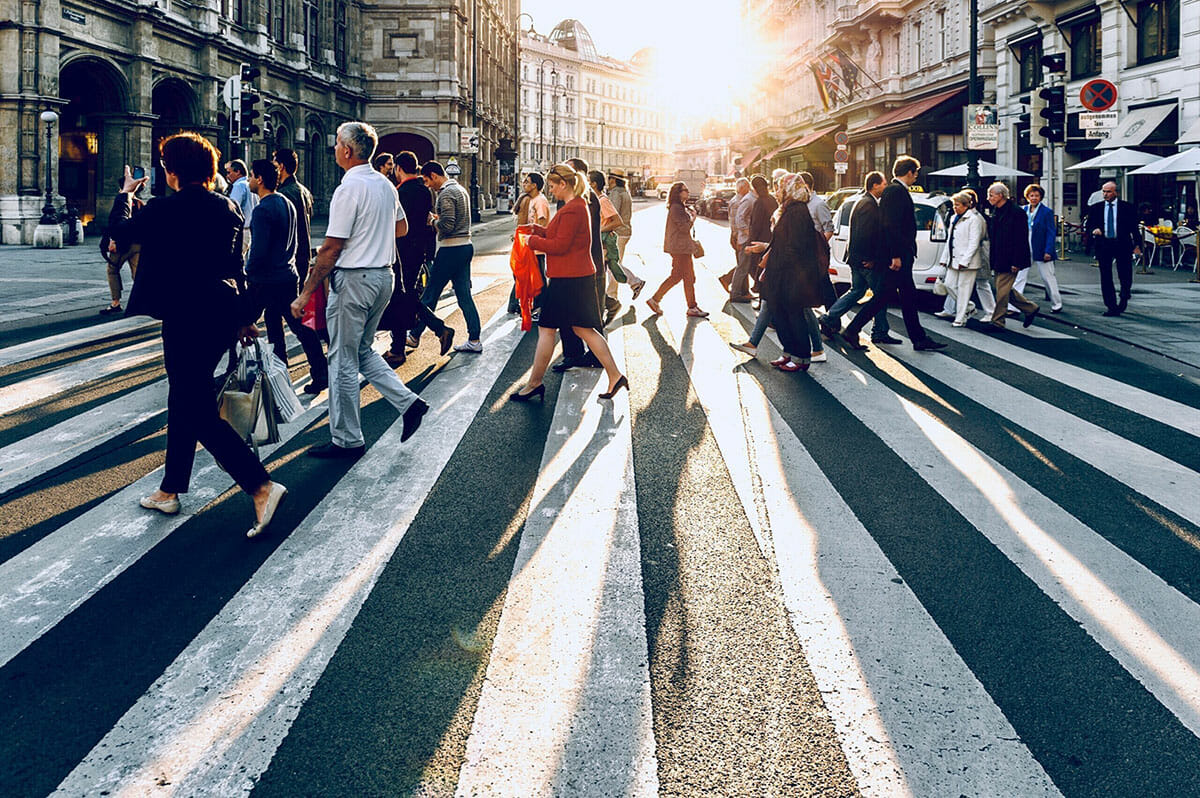 ---
In a global economy saturated with choices, now more than ever consumers want brands they can believe in. For some, choosing a brand has taken on a political component where they want to know how far the company supports values and ethics which mirror their own. On key issues like climate change, equality, and human rights, successful businesses are increasingly required to demonstrate their commitment to acting for the good of society and the environment.
In an Accenture 2018 study of nearly 30,000 consumers, 62% of respondents wanted companies to take a position on issues such as sustainability and fair employment, while a further 66% thought that transparency was one of the most important aspects of corporate image. Obtaining the buy-in of some segments of the public then depends increasingly on being a purpose-led company, something which is likely to grow even more important as future generations of Millennials and Gen Z-ers mature. In Cone's Millennial Employee Engagement Study of over 1,000 people, 64% of Millennials stated that they would refuse to work for a company without a strong Corporate Social Responsibility (CSR) position.
What does Corporate Social Responsibility mean for IP professionals and the IP industry?
One consequence of the growth of CSR has been an increased need for brands to communicate in a way that builds and reinforces trust. There are many ways to achieve this, but one of the most effective and time-tested methods is through the establishment and protection of solid brand imagery, a stable IP portfolio, and an ability to minimize the reputational damage done by infringement and counterfeiting; establishing and protecting brand identity across the whole lifecycle of a trademark – an area Corsearch leads the field in.
What's clear is that with these developments impacting IP trends and infringements, legal professionals require accurate facts about the market to support them in their decisions. For over 70 years, Corsearch has empowered legal and brand professionals to establish, manage, and protect their brands. Our innovative Screening, Searching, Watching, and Protection solutions can help you master the new world of socially responsible business.
How Trademark Establishment and Protection Supports Responsible Brands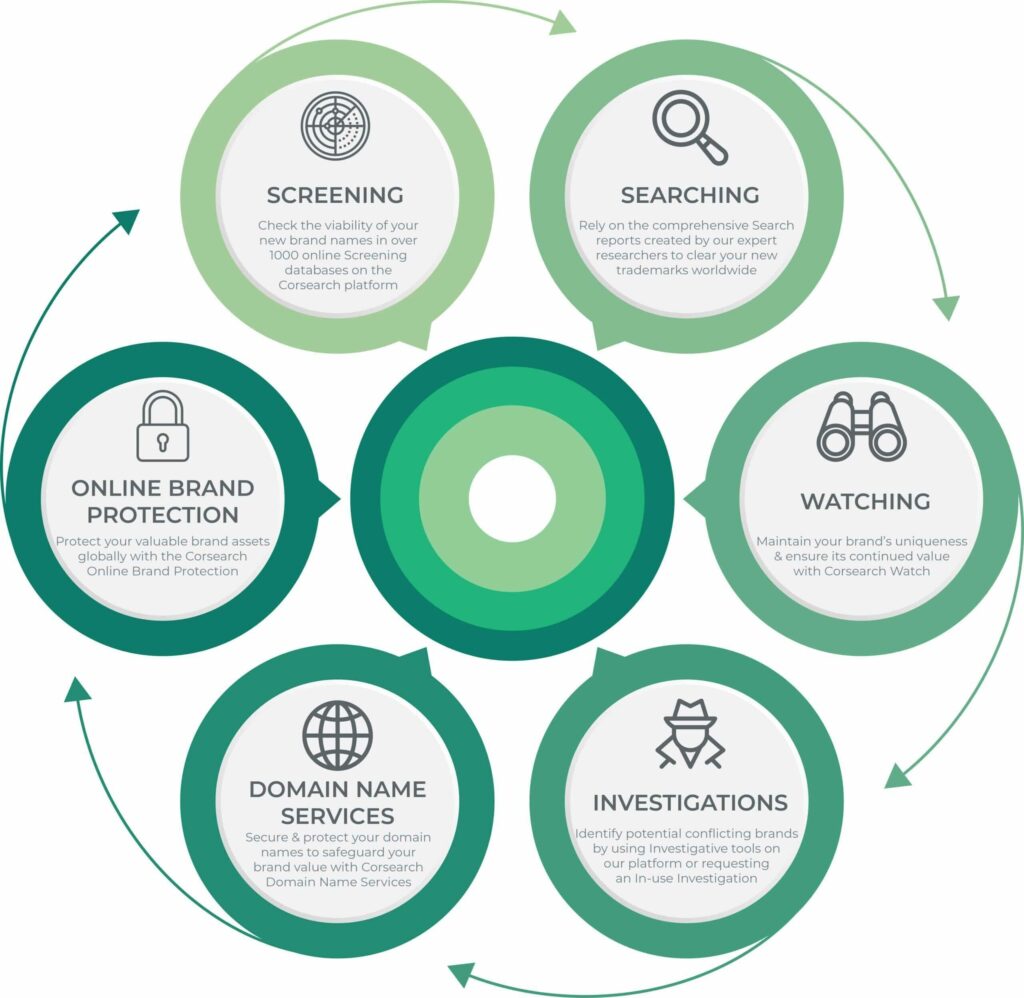 Screening – Our intuitive trademark Screening platform can assist in the cost-effective creation of all brands, including, sustainability-focused brands. Due to higher production and supply chain costs, many new businesses in this area have smaller budgets, but by performing initial knock-out screening using our comprehensive tool you can pull data from over 180 trademark databases, customize, create, and present reports efficiently.
Searching – Trust is a central part of the new drive to corporate responsibility, and we understand that you want to provide clients with information and analysis that is comprehensive – that's where our Searching platform comes in. Working with our expert watch analysts will mean you receive search reports that are always meticulous, reliable, and targeted to your needs. For those new brands with a need to separate themselves in niche fields, this kind of comprehensive reporting can be invaluable.
Watching – There is always a potential danger in rapidly expanding industries, especially where certain buzzwords are repeatedly used, that competitor enterprises will seek to file marks similar to yours. Our expert watch analysts, intuitive platform, and personalized delivery can alert you to possible conflicts and give you the power to act quickly.
Online Brand Protection – Maintaining brand integrity is crucial for all businesses. Protecting your IP from counterfeiting and other forms of brand abuse couldn't be easier with Corsearch's Online Brand Protection service. Our global team now includes over 100 multi-lingual analysts, investigators, and developers, and the largest China-Based team in the industry.
Corsearch is the only industry provider who can meet the needs of the entire trademark lifecycle from registration to protection. With Corsearch's end-to-end lifecycle solutions, protecting the sustainable credentials of responsible businesses couldn't be easier.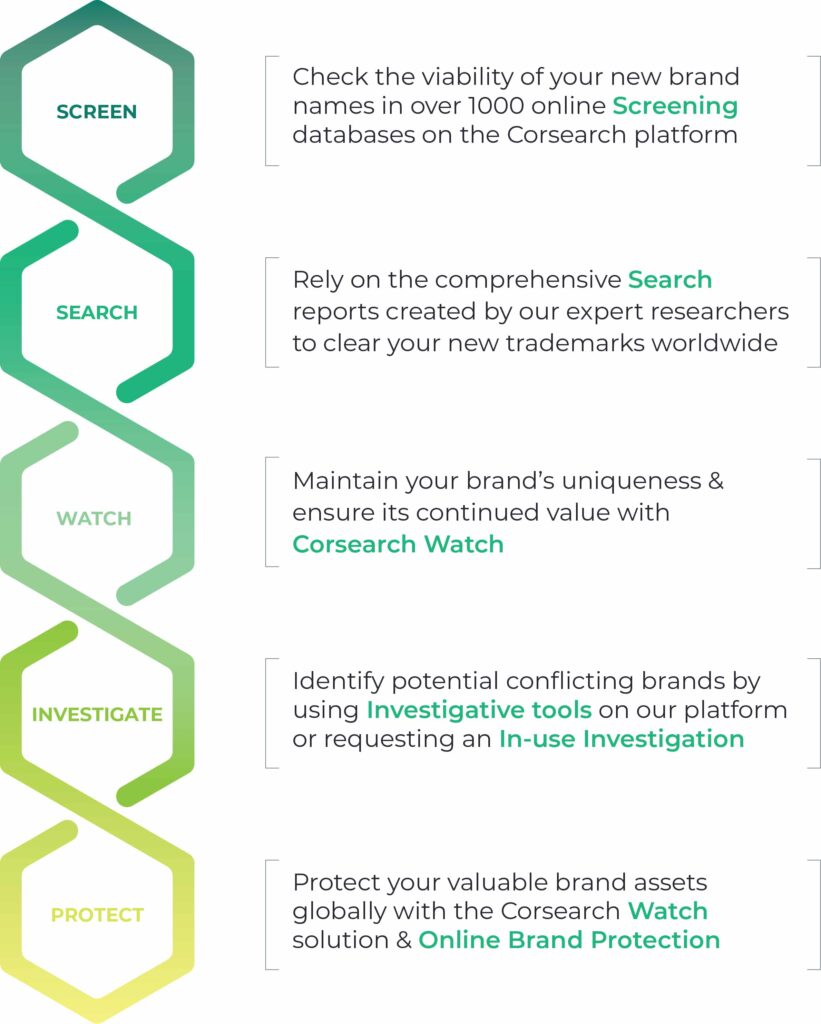 *This is an informational opinion article of Stephen Connolly of Corsearch. The views and opinions expressed in this article are those of the author and do not necessarily represent official policy or position of Corsearch or its clients.
Learn more about Corsearch Brand Protection.