Speed up Brand-to-Market with Corsearch
Reduce time from idea generation to your marketplace with our class leading AI technologies, allowing faster searching, registration and watching of trademarks and logos.
Why choose Corsearch?
We understand that mass market solutions and bundles often fail to meet the needs and budget restraints of businesses. From long time duration from ideation to marketplace, to delays in searching trademarks, analyzing reports, and receiving watch results — trademark practitioners are often left frustrated and out of pocket.

That's why we offer a comprehensive suite of best-in-class products to choose from, to help you build the perfect custom bundle that will streamline your trademark management, speed up your brand-to-market, and often reduce your current spend.
Learn more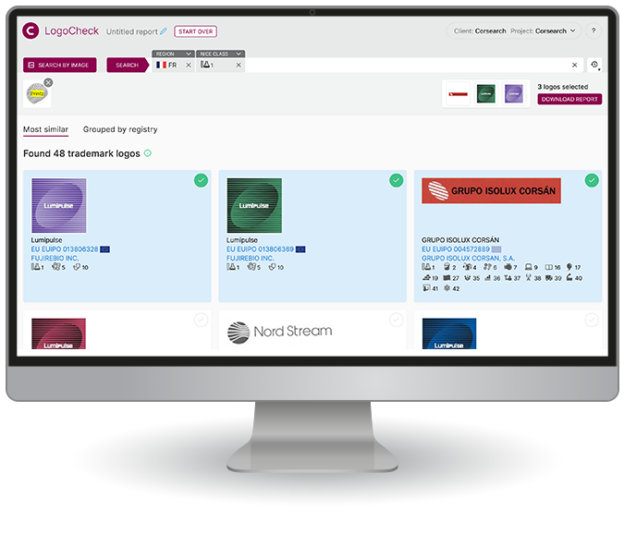 Key benefits
Ongoing investment and innovation in our trademark screening, searching, and watching tools enables you to keep pace with market demands.
Request a demo
70% of the Forbes top 100 put their trust in Corsearch's Trademark Solutions.
Request a demo to see how we can speed up your trademark workflow and deliver real results for your business.
We take trademarks personally — ask our clients
"What I value very much about Corsearch is the excellent partnership. I always have the impression that Corsearch understands our business and that the service is made in accordance with our demands as an industry."
Kristiane Vandborg, Senior Director Head of Global Trademarks
"Using TrademarkNow means that we can quickly identify and take action on any potential infringements – and sometimes even before these potentially infringing trademarks are officially published."
Antony Douglass, Legal Director Intellectual Property, Data Protection, Marketing & Digital Strategy